RE and Collective Worship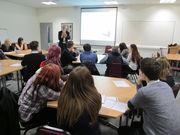 A Church of England Sixth Form
Our five Christian values of compassion, forgiveness, friendship, hope and wisdom, underpin all that we do at the School. Throughout the curriculum and through worship pupils encounter and consider these values and the impact on their learning and lives.
At lunchtime, a member of the clergy is sometimes available in The Heart, or one of the other lunchtime venues, on a rota throughout the term. Sixth Form pupils also have their own chaplain available in school at set times during the week. Prayer is available for pupils, staff or families through the clergy. The school also provides a weekly prayer group for parents.
Three times a year there will also be an RE conference held, which ensures that pupils meet the statutory requirements for RE in the Sixth Form. These are led by the RE department, often including external visitors on a range of religious or ethical issues.
Daily tutor time
Regular collective worship
Sixth Form RE conferences
Chaplaincy – Rev Aptin (St Philip's, Palm Bay)
FOR MORE INFO:
Mr Knight
Director of Christian Ethos
"For the body does not consist of one member but of many." 1 Corinthians 12:14