Careers - Introduction
'INSPIRE, INFORM AND PREPARE – EVERY PUPIL AT EVERY STAGE'

The provision of careers guidance and support at St George's Church of England Foundation School seeks to deliver on the July 2021 Department for Education Careers Strategy. We are also committed to pursuing the Investor in Careers award, a Quality in Careers Standard.
An outline of our Careers journey is shown below, with more detail in 'Our Provision'.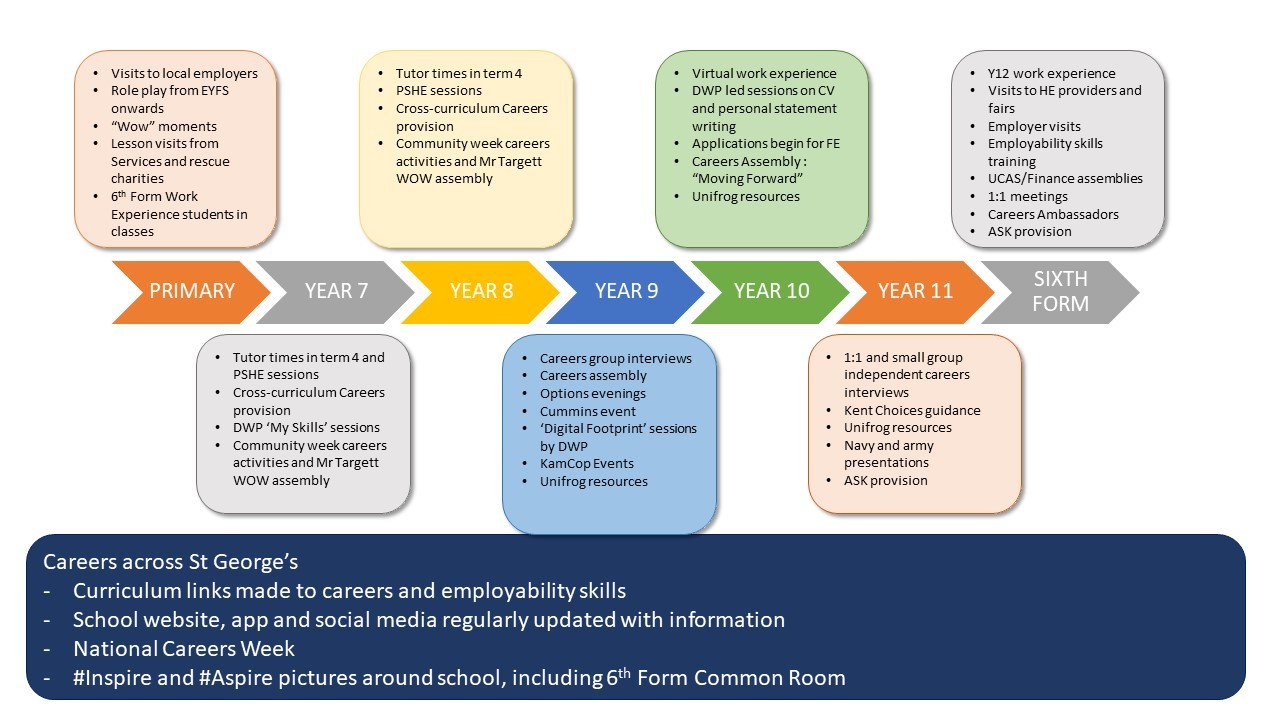 Updated October 2021 – reviewed annually
Who is involved in the Careers programme?
WHO IS INVOLVED?
The Careers Team is :
Careers Leader - Mr Morgan
Mr Knight
Mr Duffy (Primary)
Mrs Sadler (KS3 and 4), and
Mrs Howard (Transition and Progression Manager, particularly KS5 Careers)
Mrs Buckingham organises Work Experience in years 10 and 12, with EBP.
The team work to plan and deliver a Careers programme, which includes advice for pupils, parents and staff as well as employer engagement and support. Pupils are also supported in their "Career Planning" by Mr Chris Targett. Chris is an independent and impartial Career Development Professional employed by CXK.Ltd (www.cxk.org). We also receive support from the Careers and Enterprise Company (CEC) and have an Enterprise Adviser.
The Enterprise Advisor Network (EAN) is supported by KCC and CEC, bringing employers and schools together. We have worked together during the past year to develop a strategy and plan for the careers provision at St George's. We utilise tools such as 'Compass' to measure our progress towards achieving the Gatsby Benchmarks (see below).
If you have any queries please contact either Mr Morgan (davidmorgan@st-georgescofe-thanet.kent.sch.uk) or Mrs Sadler (viviennesadler@st-georgescofe-thanet.kent.sch.uk )
The government has introduced the following mandatory guidance for schools under which are called the Gatsby benchmarks:
The 8 Gatsby benchmarks of Good Career Guidance
A stable careers programme
Learning from career and labour market information
Addressing the needs of each pupil
Linking curriculum learning to careers
Encounters with employers and employees
Experiences of workplaces
Encounters with further and higher education
Personal guidance
Our Provision
OUR PROVISION
"What's available for my son or daughter?"
PRIMARY
Currently our primary pupils have visited workplaces linked to some aspects of the curriculum. For example, local restaurants, supermarkets and an ice cream parlour. Pupils in EYFS also engage in role-play activities, often with links to some job roles. During 2018/19 the government planned to spend time researching what kind of careers activities work well in primary schools. We continue to develop the provision within the primary school in line with government guidance.
KEY STAGE 3
Careers and the wider world of work plays a key role in our PSHE programme of study, which is taught across the curriculum in Key Stage 3. Pupils in Years 7 to 9 will have their learning regularly linked to careers and the wider world of work. This will include some relevant visits to and visitors from relevant organisations. In Year 9, specific support is given to guide pupils as they select their GCSE options.
Mr Targett continues to provide additional support to all years, with their career development on Wednesday lunch times and additional days when he is in school, where he is available at the popular "lunchtime drop-in" service in the Heart; no appointment needed – just "drop-in" and speak with Chris.
In line with the Gatsby Benchmarks, which set out best practice for schools, we are looking to develop more workplace encounters for pupils across KS3, particularly in STEM subjects.
YEAR 10
Support will be provided for Year 10 pupils choosing their next steps, through an initial Assembly in the Summer Term and then small group interviews held in school with Mr Targett; these sessions will continue into Year 11.
Pupils usually have the opportunity to complete a Work Experience placement during the summer term, which is arranged by Mrs Buckingham. Unfortunately in June/July 2020 and 2021 this opportunity was lost due to the COVID-19 pandemic, but we had a Virtual Work Experience instead.
Curriculum areas will be seeking to develop links between pupils' studies and the world of work as we continue to develop our provision. Pupils can also make use of the Careers resources in the school library.
YEAR 11
Each Year 11 pupil will be seen by Mr Targett in a group interview for "Careers Guidance" before Christmas, following this, those pupils who need a little more help will be seen for a one to one interview.
Year 11 careers information advice - a parents guide
If you feel your son or daughter will need a one to one interview, please let their form tutor, Mrs Sadler or Mr Morgan know as soon as possible.
Each pupil will complete an Action Plan in their appointment(s), detailing what they need to research and what they are initially considering for their Post 16 education or training. This will include when they need to make applications through the Area Prospectus : Kent Choices 4 U.
Pupils can also make use of the careers resources in the reflection room (student support). Another useful resource is CXK resources
SIXTH FORM
CXK Careers Advisors provide ongoing support to our Sixth Form pupils with regards preparing for their next steps after their studies, whether Apprenticeships, School Leaver Schemes, Gap Years and Higher Education (such as University and Distance Learning). This helps pupils to explore the options and pathways available, including where they may lead and the opportunities therein. Miss Green is the Sixth Form Careers Lead.
Year 12 pupils particpate in a one week Work Experience during Term 3 in February.
Work related skills events are also visited so that pupils learn about and develop appropriate skills valued by employers. The school also encourages visitors from a range of sectors to speak with pupils. Pupils can also make use of the careers resources in the School Library and Sixth Form Common Room.
Our programme is reviewed and assessed annually, using a number of sources of information, such as number of NEETS (those not in education or employment) and looking at onward destinations (apprenticeships, universities, jobs).
Our Aims
We want:
all of our pupils to understand the full range of opportunities available to them, to learn from employers about work and the skills that are valued in the workplace and to have first-hand experience of the workplace;
all pupils to get an excellent programme of advice and guidance that is delivered by individuals with the right skills and experience;
all pupils to get support tailored to their circumstances, with access to face-to-face advice.
all pupils to get the information they need to understand the job and career opportunities available, and how their knowledge and skills can help them in considering suitable careers.
ICOULD
ICOULD
Explore different roles and search by subject areas to find out where your choices could take you. Complete the personality quiz called "the buzz quiz" to see if your personality is a good fit with different occupations. This is useful for some students but not the only way to decide on your future choices. Click Here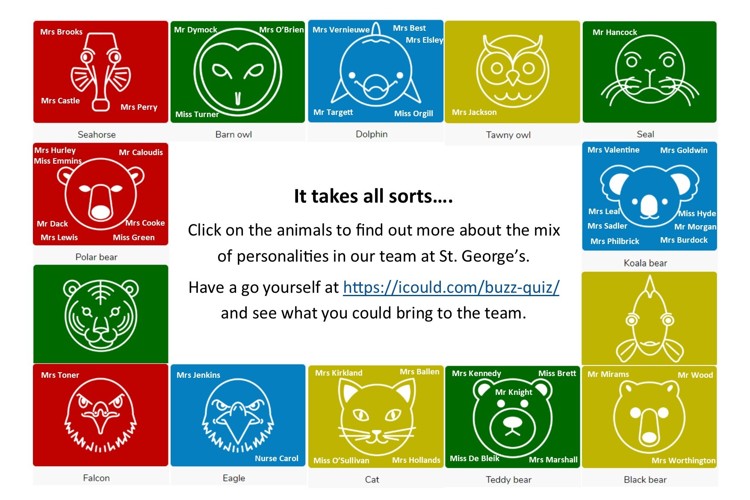 16 Personalities
16 Personalities
Take this personality quiz to see how your character may link to your future career aspirations. It's suitable for some pupils but, not all.