Back to Subjects
Art and Design (Level 2 and 3 BTEC) = Textiles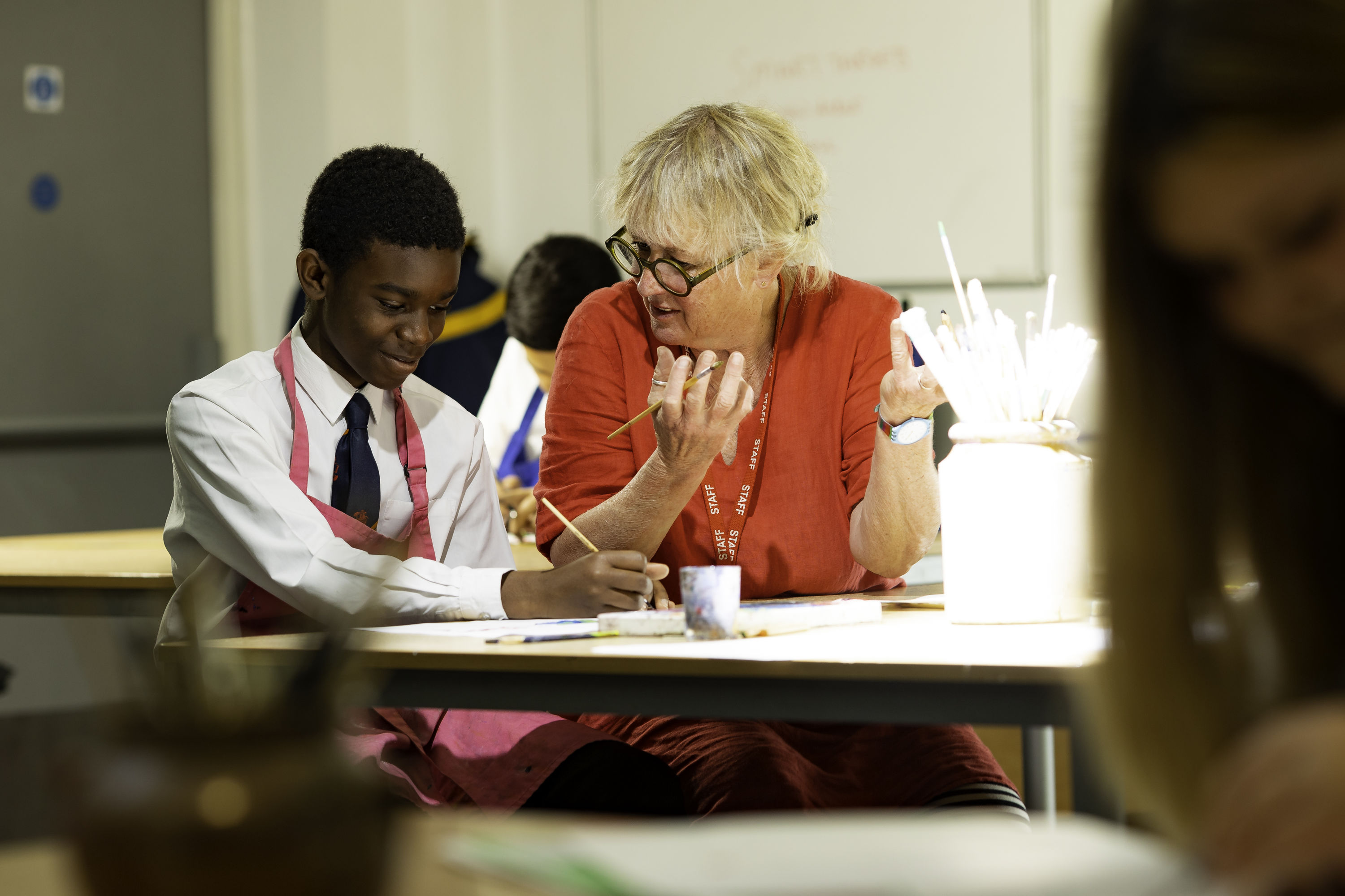 Subject Vision
INTENT
Art Subject Vision:
Art and Textiles provide us with the opportunity to Explore, Interpret, Experiment and respond to the world around us in refreshing, innovative ways. We are given the freedom to express and communicate ideas and meaning, perhaps from perspectives that we have not previously explored, providing us with a unique platform unlike any other, to communicate to our audience.
In 2019 the Office for National Statistics provided the DATA that;
The arts and culture industry has grown £390million in a year and now contributes £10.8billion a year to the UK economy.
The sector contributes £2.8billion a year to the Treasury via taxation, and generates a further £23billion a year and 363,700 jobs.
How the Textiles curriculum fits into our Whole School Vision:
Broad – BTEC Textiles offers an engaging and stimulating introduction into the world of Fabric Manipulation and Contextual Reference, giving students the opportunity to develop knowledge, design and technical skills. Students explore some of the key areas within the Textiles disciplines including printing, applique, silk painting, sewing machine skills, felting and hand stitching and the processes involved in producing distinctive and imaginative work.
Stimulating – Students investigate how textile artists, from historical and contemporary times, investigate a range of processes within the creative process to create individual and wide ranging techniques.
Enjoyable – Students have the opportunity to explore their designs and ideas through modelling textiles in 2D and 3D and experimenting with combining techniques in their own responses to a given brief.
Engaging – We look at preparation for employment in the Textile industry and the skills and opportunities required to progress through career paths. We have the opportunity to invite local practitioners to visit school and run workshops to give students practical experience and discuss opportunities within the Textile industry.
Motivating – Students are encouraged to research local and global textile practitioners as case studies when exploring how textile products meet the needs of different clients. Students are given the opportunity to experience a range of textile processes to gain hands on practical experience of a range of textile processes.
Challenging – The course provides a basis for progression to further study in this sector by following the BTEC National Level 3 in the Sixth Form or an apprenticeship within one of the Textile sectors.

IMPLEMENTATION

The Textiles curriculum has been designed with the intention of providing our students with the skills required to tackle the formal assessment (x2 paper external examination) in Year 11 in addition to the 2 internally assessed components across the two year course.
Teachers will present subject content clearly, promoting appropriate discussion, checking learning, identify misconceptions accurately and provide clear, direct feedback. As a result teachers will respond and adapt their teaching as necessary.
Assessments will be delivered in a way that promotes long-term memory as well as the appropriate exam technique required to respond effectively to questioning and structure exam style questions appropriately.
IMPACT
Students will make good progress against their outcomes, which will mean high attainment; a strong grounding for life in the real world, equipping them with skills such as identifying issues, problem solving, expressing ideas creatively and clearly, developing ideas and communicating these to others. Progress will be monitored against target grades, gap analysis is undertaken after formal assessments to enable staff to identify individual student's areas of weakness and strength, enabling them to offer personalised personal checklist to improve performance.
Our Learning Journey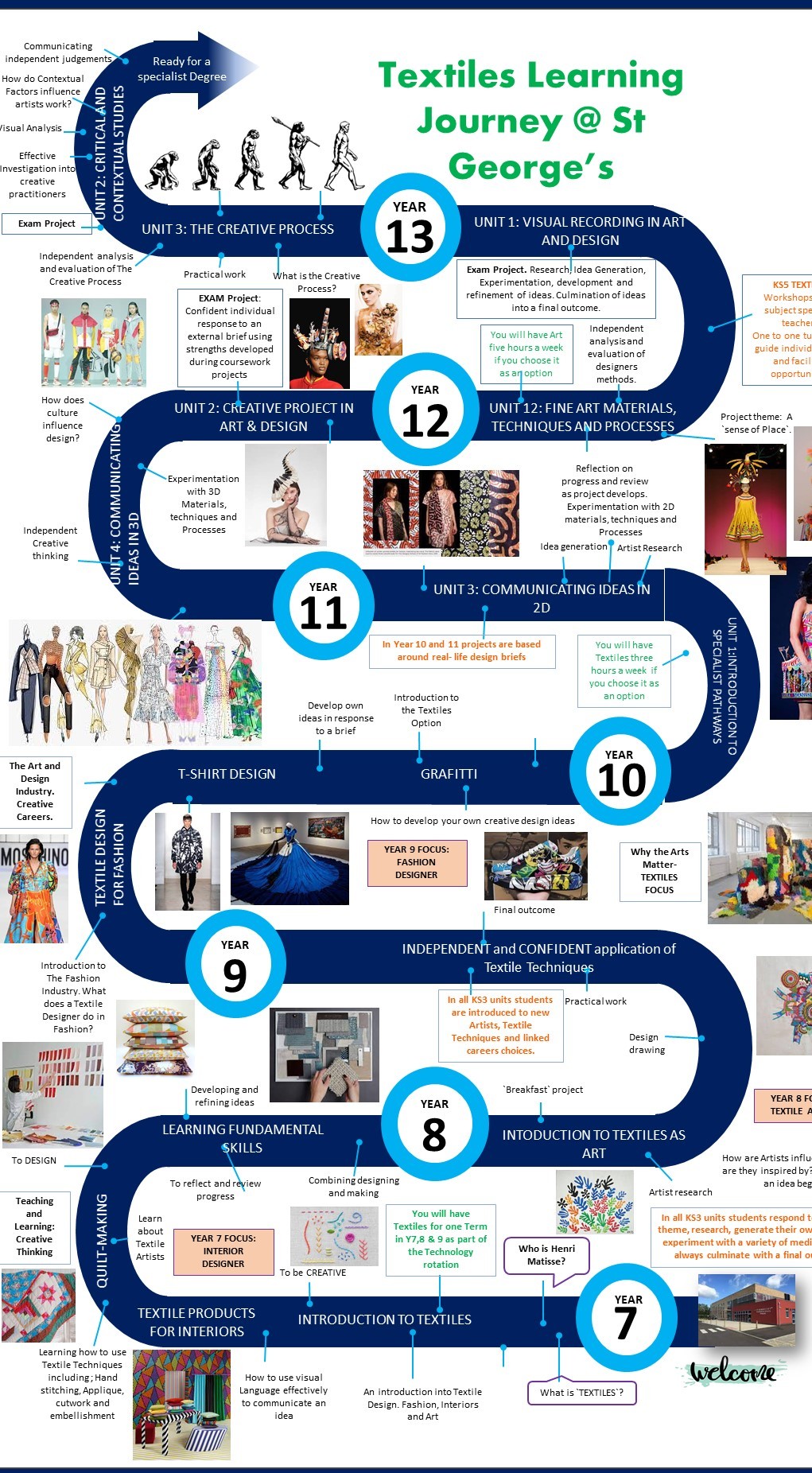 Staff
Homework - KS4
| Year | Task | Time |
| --- | --- | --- |
| Year 10 | Individual homework appropriate to progress. | 30 mins |
| Year 11 | Individual homework appropriate to progress. | 30 mins |
---


Check the Curriculum Year information for the homework timetable.
Homework - KS5
Year
Task
Time

Year 12

Term 1: Weekly Practical work beyond the classroom that supports the current project.

Term 2: Unit 1 External exam revision worksheets.

Term 3-6: Weekly Practical work beyond the classroom that supports the current project.

60 mins

Year 13

Term 1-2: Weekly Practical work beyond the classroom that supports the current project.

Term 3-4: Unit 2 External exam revision worksheets.

Term 5-6: Weekly Practical work beyond the classroom that supports the current project.

60 mins
Revision - Level 2 First Award
Students` will have a practical Textiles exam at the end of their two year course and are encouraged to practice independent experimentation with a range of materials, techniques and processes in preparation. Art rooms and resources are available for students afterschool when this is pre-arranged with the students Art teacher.
| | |
| --- | --- |
| PERSONAL LEARNING CHECKLISTS | Unit 1 |
| EXAMPLE EXAM QUESTIONS/MODEL ANSWERS | Click Here |
| REVISION MATERIALS/SHAREPOINT | to follow |
Revision - Level 3 National
Job Opportunities / Careers
In the textile design industry, you can use your creative flair and ability to generate ideas and concepts for creating innovative clothing and interior designs.
Job options
Jobs directly related to your degree include:
Clothing/textile technologist
Colour technologist
Interior and spatial designer
Fashion designer
Pattern cutter
Textile designer
Jobs where your degree would be useful include:
Conservator
Further education teacher
Graphic designer
Higher education lecturer
Printmaker
Product designer
Retail buyer
Secondary school teacher
Stylist
Visual merchandiser
Typical employers
Employers of textile design graduates include:
Design studios and consultancies
Large fashion and design companies
Small specialist design companies
Manufacturing and processing companies that produce clothing, soft furnishings and other textile-based products
Interior design and decoration services
Private clients.
Textile design is a global industry and you may find opportunities to work abroad or with an international company.
Many designers work on a freelance basis and some choose to set up their own business, often designing and producing work for exhibitions, direct sale or through retail craft outlets.
You may choose to follow a portfolio career, combining several jobs such as design practice together with teaching, community arts work or curating.
useful links to universities
degrees within textiles based subject
https://www.art.mmu.ac.uk/textilesinpractice/ = BA (Hons) Textiles in Practice
https://www.bathspa.ac.uk/courses/ug-textile-design-for-fashion-and-interiors/ = Textile Design for Fashion and Interiors BA (Hons)
https://www.brighton.ac.uk/courses/study/printmaking-ba-hons.aspx = Printmaking BA(Hons)
https://royal-needlework.org.uk/degree/ = BA (Hons) Hand Embroidery