Duke of Edinburgh Award

We have set up the Duke of Edinburgh's Award Scheme at St George's Church of England Foundation School to give our pupils the opportunity to take part in the world's leading youth achievement award. Through our DofE programme, pupils will experience new activities and learn new skills while developing their independence, their resilience, their teamwork and their community values along the way.
Every summer in term 6, we offer spaces first-come-first served to those in Year 8, so they can start it in Year 9. There are a limited number of spaces and full information can be found in the information letter emailed to parents at the start of term 6, we also host an information event in term 6 for parents of pupils wishing to take part.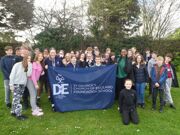 Please follow the links below for more information about the D of E and some resources to support participants. We will update this site regularly with any relevant forms or information. If you have any queries please email our D of E Manager, Mr Knight – ChristopherKnight@st-georgescofe-thanet.kent.sch.uk
To access your eDofE account, click here. For any issues with your user id or password, please contact Mr Knight via email or Teams.
For information about the Duke of Edinburgh Award and what is involved, visit their website here: https://www.dofe.org/do/
Information for Pupils
Bronze Welcome Pack items