Wellbeing
Vision
'Love the Lord your God with all your heart and with all your soul and with all your strength and with all your mind'
A healthy school ensures that when pupils are unhappy or anxious, there are open channels for them to seek or be offered support, without stigma and with appropriate confidentiality. A healthy school actively seeks to promote emotional health and wellbeing and helps pupils to understand their feelings.
At St George's Church of England Foundation School, we strive to create an ethos that promotes openness about mental wellbeing, and encourages the whole of a school community to feel comfortable sharing concerns or ideas. We promote a caring, supportive environment in which each individual is valued and respected. Mental health and wellbeing provision is driven by the understanding that every member of the school community is valued and interconnected. As a school we seek to ensure our provision encourages the holistic flourishing of every member of the school.
All children and young people have the right to be educated in an environment that supports and promotes positive mental health for everybody. With our strong belief in God we value the whole person and ensure we all have the skills to overcome the challenges we face as a pupil, staff member or as part of the St George's community.
Wellbeing Learning Journey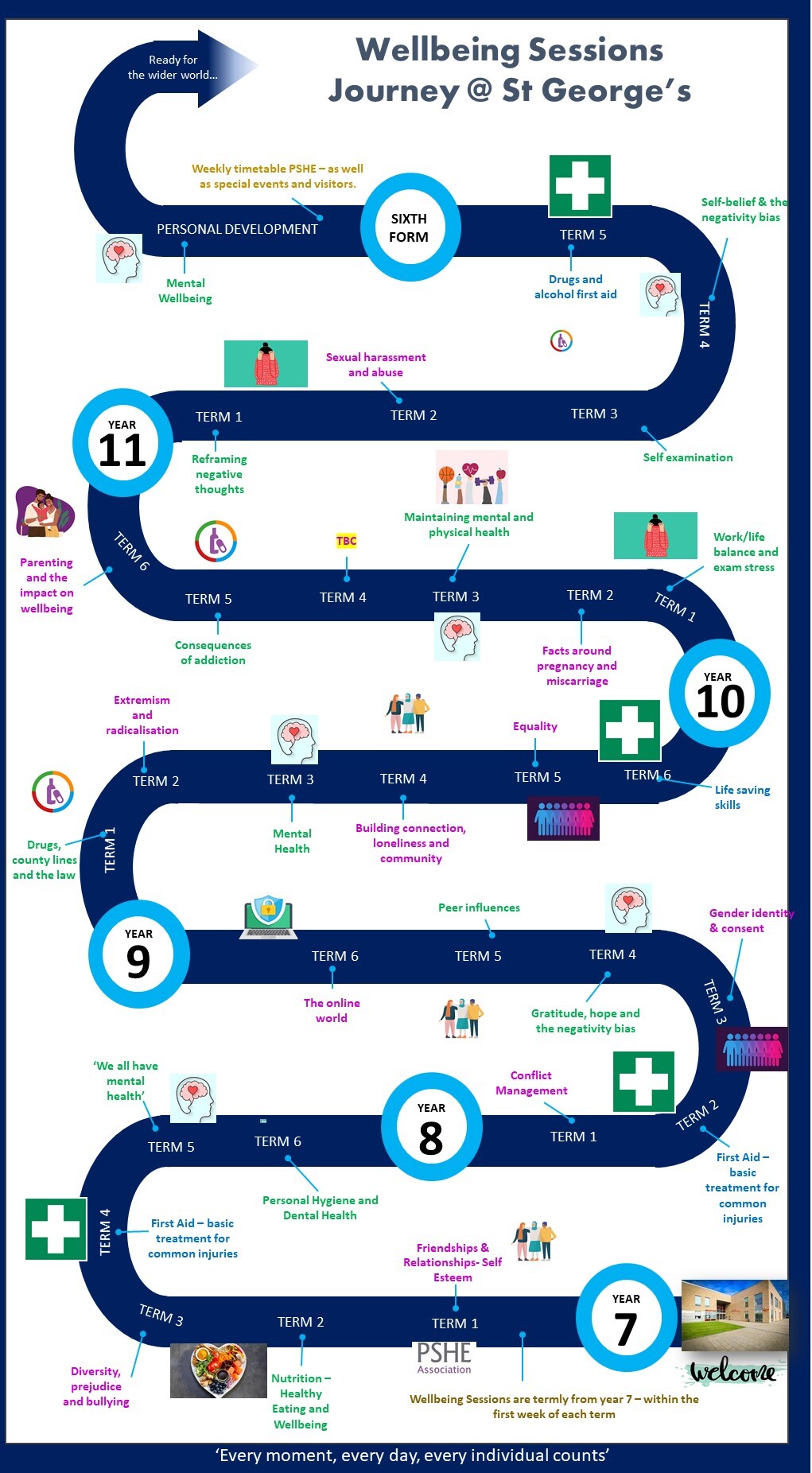 My child needs help with stress/low mood/anxiety. Where can I find practical strategies that will help them?
You could direct your teen to these websites and apps for targeted support and practical strategies for management of anxiety and overwhelming feelings
NHS Every Mind Matters
https://www.nhs.uk/oneyou/every-mind-matters/youth-mental-health/
Mind Fresh
https://mindfresh.nelft.nhs.uk
Mind Fresh is an NHS recommended app that could help with initial strategies and provides links to other useful sources of support and information.
Headspace
https://www.headspace.com/
Headspace is an app which promotes positive responses to stress, promotes resilience and uses mindfulness as a strategy to deal with life's problems.
Mood Tools
https://www.moodtools.org/
Mood Tools is specifically aimed at managing very low mood and promotes strategies to keep safe.
My Child has anxiety and is refusing to go to school?
My child needs help to build resilience.
My child struggles with a healthy sleep routine. What can I suggest?
My child may need counselling to help them with their mental health. Is there a way to get help quickly?
I'm worried my child is self-harming and/or having suicidal thoughts. What should I do?
My child needs to get more exercise. Where can I get help?
Where can I go for mental health support from health professionals?