Back to Subjects
Chemistry (GCSE)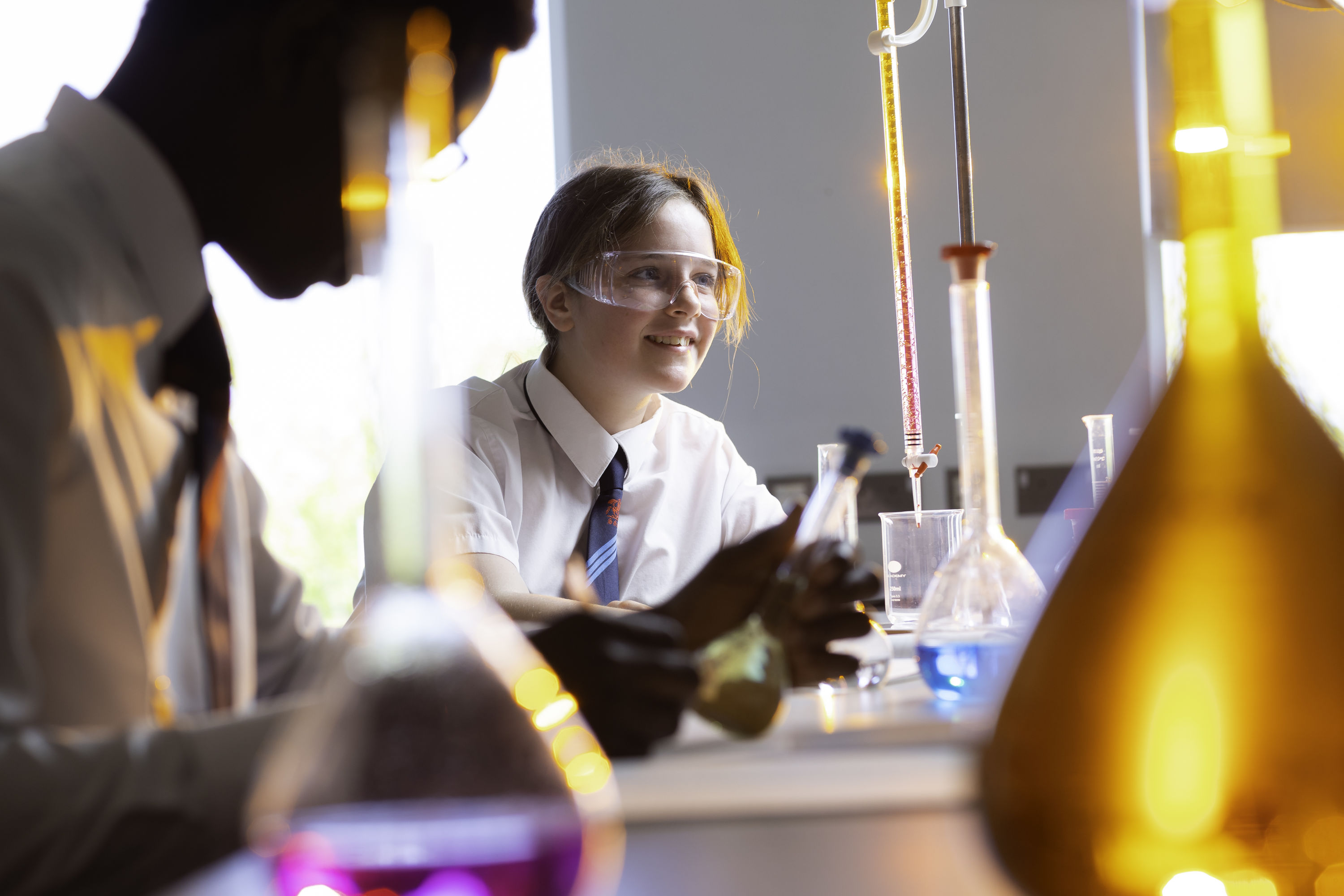 Subject Vision
CURRICULUM VISION
"A broad, stimulating and enjoyable curriculum, that engages, motivates and challenges all pupils, giving them the knowledge, skills and understanding to grow as individuals, preparing them for the next stage in their lives"
In Science, we incorporate the curriculum vision by:
Broad:
Teaching a range of topics across the sciences that stretch students' knowledge, understanding and skills.
Topics such as fundamentals of Biology, Chemistry and Physics, and investigative skills.
Stimulating
Encouraging interest and enthusiasm through inquisitive and investigative learning that allows students to take ownership of their own discoveries and draw valid conclusions.
Enjoyable
In Science, a range of learning techniques are implemented to make the subject enjoyable and accessible for all students, e.g. research based inquiry, experimental and practical work as well as field studies.
Engaging
Developing an understanding and awareness of how real life situations and current affairs are linked to an understanding and appreciation for science such as health and disease, climate change and global warming, intensive cattle farming and technological advances.
Motivating
Making links between the different topics in Science and the potential careers that can stem from an interest in those topic.
Learning about future pathways after GCSE or Applied Science and the wide range of careers that a qualification in science can offer.
Challenging
Strengthening students' examination skills by practising a wide range of revision skills and strategies throughout the course.
Staff
Homework
Our Learning Journey
Year 9, 10 and 11 will be doing one GCSE science per year. GCSE exams are taken at the end of each year
Each science subject has 2 papers, each 1 hour 45 mins in length. There is no coursework in any Science GCSE.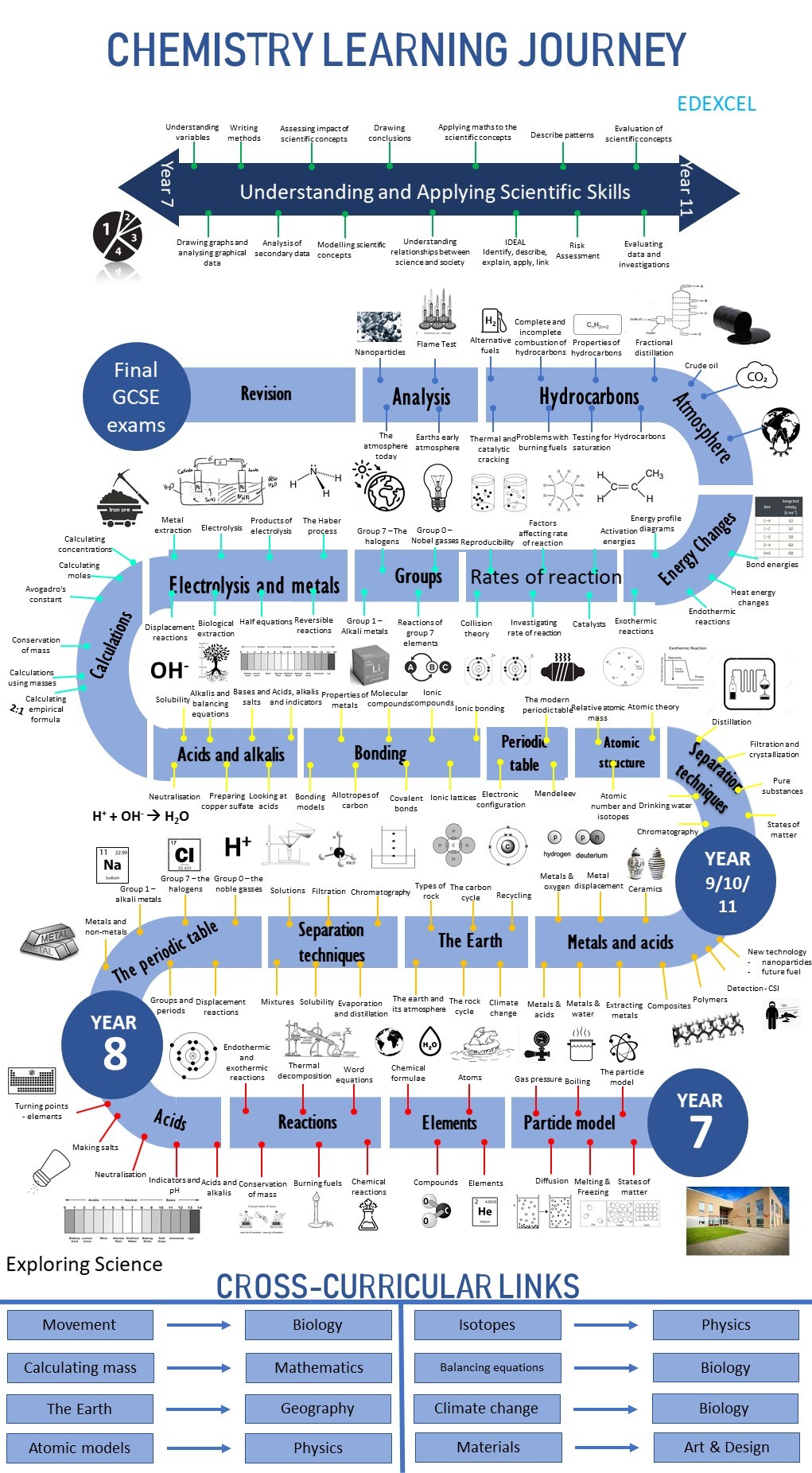 GCSE Revision Information - KS4
General Information (Useful Information for Parents)
Students will study Chemistry GCSE for 1 year and take 2 exams, (Paper 1 and Paper 2), at the end of that year. This may be in year 9, 10 or 11.
A link to the Specification for the GCSE is below which gives details of the whole course and its content - Click Here
A great website for revision is COGNITO
Personal Learning Checklist
Paper One
Paper Two

Personal Learning Checklist – Click Here

Revision list - Click Here

Personal Learning Checklist – Click Here

Revision List - Click Here

Example Exam Questions/Model Answers

Pearson website past papers - Click Here

SharePoint link to practice papers and mark schemes – Click Here

Revision Materials/Sharepoint

SharePoint link to Chemistry revision – Click Here

All students have access to teams where a lot of revision resources are available and updated regularly.

Logging into SharePoint

Pupils must log in with their username as their usual computer login followed by @st-georgescofe-thanet.kent.sch.uk (e.g. JSmith123@st-georgescofe-thanet.kent.sch.uk) and their usual password they use to log on to school laptops

Teams link to Chemistry revision group – Click Here

All students have been added to a teams revision group for their subject. Revision and advice is posted regularly so keep checking in.

Logging into teams

Pupils must log in with their username as their usual computer login followed by @st-georgescofe-thanet.kent.sch.uk (e.g. JSmith123@st-georgescofe-thanet.kent.sch.uk) and their password – this can be reset if forgotten, just let your teacher know.

Key Word Booklets

Complete Chemistry Keywords Booklet – Click Here
Revision Materials and Useful Links
Educake Homework/Revision
Website – Click Here
Tasks will be set by the class teacher for homework but student can also set themselves questions for revision.
Free Revision app
To find out how to download – Click Here
Download the free app on your phone to revise on the go – it is good for other subjects too, not just science.
BBC Bitesize Chemistry

Chemistry Edexcel GCSE (9-1) Whole course

– Click Here
Useful revision pages with exercises, quizzes and more covering each topic
Suggested revision timetable
Optional revision tasks 2021-2022 – Click Here
The document includes links to BBC Bitesize and has suggested revision tasks use the power point 'How can you revise properly' to help.
How can you revise properly
Power point – Click Here
Power point with ideas and instructions on how to revise and perform different tasks. This is suitable for all subjects.
Free Revision guide
Revision Guide with Video links, Hints, Tips and Revision Plans – Click Here
Free revision guide from Primrose Kitten The guide includes all three GCSE subjects – use the sections you need. (Please ignore the exam dates as they change each year)
Youtube Channel - Primrose Kitten

Paper 1 – Click Here

Paper 2 – Click Here

Other resources

Primrose Kitten has a very useful you tube channel, click on other resources to find plenty more videos for each topic and more. Also see the free revision guide.
Revision Power points

Revision Power points – Click Here

On SharePoint – Includes Pixl Know it PPTs and more
Chemistry and Maths Tutor Revision website

Chemistry revision

Edexcel GCSE Chemistry revision split into paper 1 and 2. It includes notes, flashcards and questions
Job Opportunities / Careers