Back to Subjects
Applied Science (Level 3 BTEC)
General Subject Information
CURRICULUM VISION
"A broad, stimulating and enjoyable curriculum, that engages, motivates and challenges all pupils, giving them the knowledge, skills and understanding to grow as individuals, preparing them for the next stage in their lives"
In Science, we incorporate the curriculum vision by:
Broad:
Teaching a range of topics across the sciences that stretch students' knowledge, understanding and skills.
Topics such as fundamentals of Biology, Chemistry and Physics, and investigative skills.
Stimulating
Encouraging interest and enthusiasm through inquisitive and investigative learning that allows students to take ownership of their own discoveries and draw valid conclusions.
Enjoyable
In Science, a range of learning techniques are implemented to make the subject enjoyable and accessible for all students, e.g. research based inquiry, experimental and practical work as well as field studies.
Engaging
Developing an understanding and awareness of how real life situations and current affairs are linked to an understanding and appreciation for science such as health and disease, climate change and global warming, intensive cattle farming and technological advances.
Motivating
Making links between the different topics in Science and the potential careers that can stem from an interest in those topic.
Learning about future pathways after GCSE or Applied Science and the wide range of careers that a qualification in science can offer.
Challenging
Strengthening students' examination skills by practising a wide range of revision skills and strategies throughout the course.
Our Learning Journey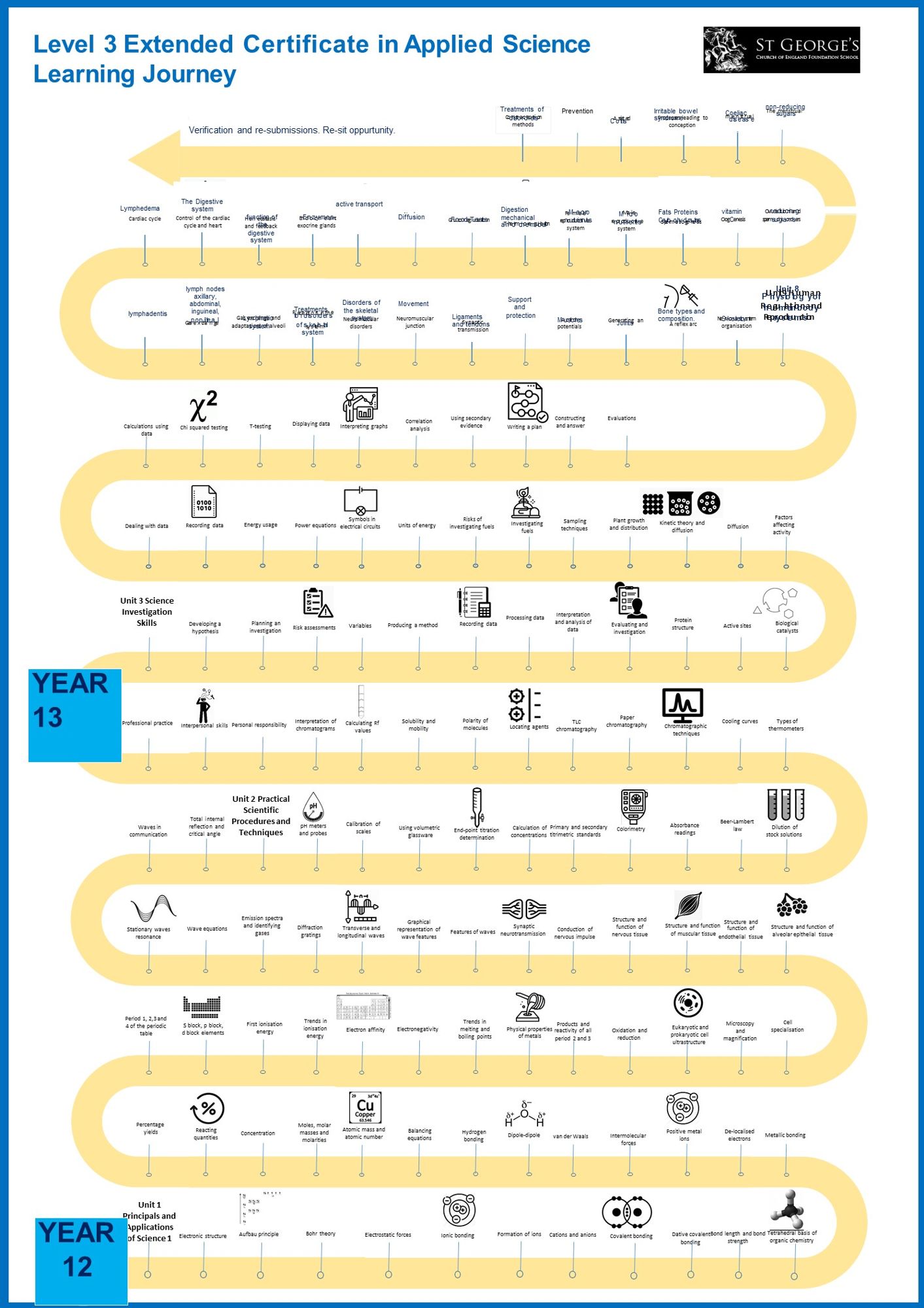 Level 3 Subject Information - KS5
Applied Science - Students have 5 hours each week
This subject is taught at Key Stage 5 only
Students will be assessed via coursework which will be presented in the form of
Powerpoints
Word Documents
Leaflets
Posters
Or group presentations
Students are assessed via coursework and exams.
Applied Science (Extended Certificate)
Unit 1 - 3 x 40 minute exams (Year 12)
Unit 3 - 1 x 90 minute exam (Year 13)
Applied Science (Extended Certificate)
Staff
The Teachers that teach Applied Science are: Mrs Best, Mr MacGowan, Mr Gotora, Miss Keane, Mrs Miller, Miss Ponsonby'
Revision
Personal Learning Checklists

Unit 1

Unit 3

Practical Exam

Exam Questions/Model Answers
Unit 1

Unit 3
Revision Material / Sharepoint
Job Opportunities / Careers