Back to Subjects
Geography (up to GCSE)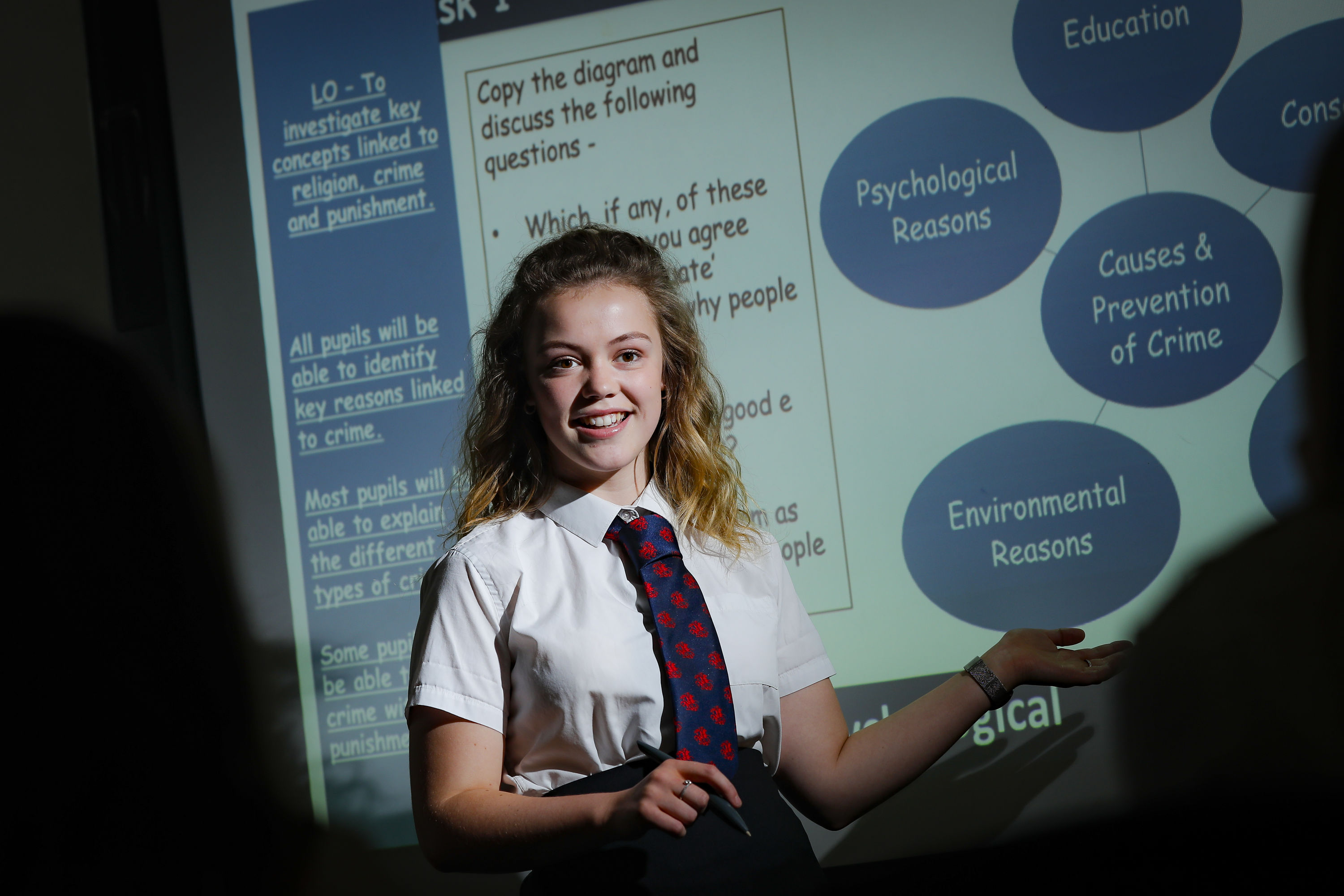 Geography is a popular, academic subject that enables pupils to have access to a variety of opportunities in the future. At GCSE level pupils need an enthusiasm for the world around them. They also need to be able to read and write to a high standard as well as the ability to interpret maps and graphs. Over the two years, pupils will develop skills in research and to be able to analyse and explain the interaction between people and the environment that surrounds them. We follow the AQA exam syllabus.
Mrs Brooks, Director of Foundation Subjects.
Subject Vision
OUR GEOGRAPHY CURRICULUM
St George's provides a broad, stimulating and enjoyable curriculum, which engages, motivates and challenges all pupils, giving them the knowledge, skills and understanding to grow as individuals, preparing them for the next stage in their lives.
Broad – In Geography we teach a wide range of human and physical geographical topics at local, national and global level.
Stimulating – In geography students are encouraged to develop and use a range of geographical skills.
Enjoyable – in Geography we make the curriculum relevant to all pupil's lives, and the world they live in.
Engaging – In Geography we use different teaching styles and encourage students to take part in numerous field study trips.
Motivating – In Geography we link different careers to the curriculum and share our passion for the subject.
Challenging – in Geography we challenge misconceptions and support all students to reach or exceed their full potential.
Staff
Homework
Key Stage 3

Year 10 Geography - GCSE AQA
Paper 1: Physical Geography - Term 1 to 4
Paper 2 : Human Geography- Term 5 & 6
Year 11 - GCSE AQA
Paper 3: Issues Evaluation - Term 1 to 4
Our Learning Journey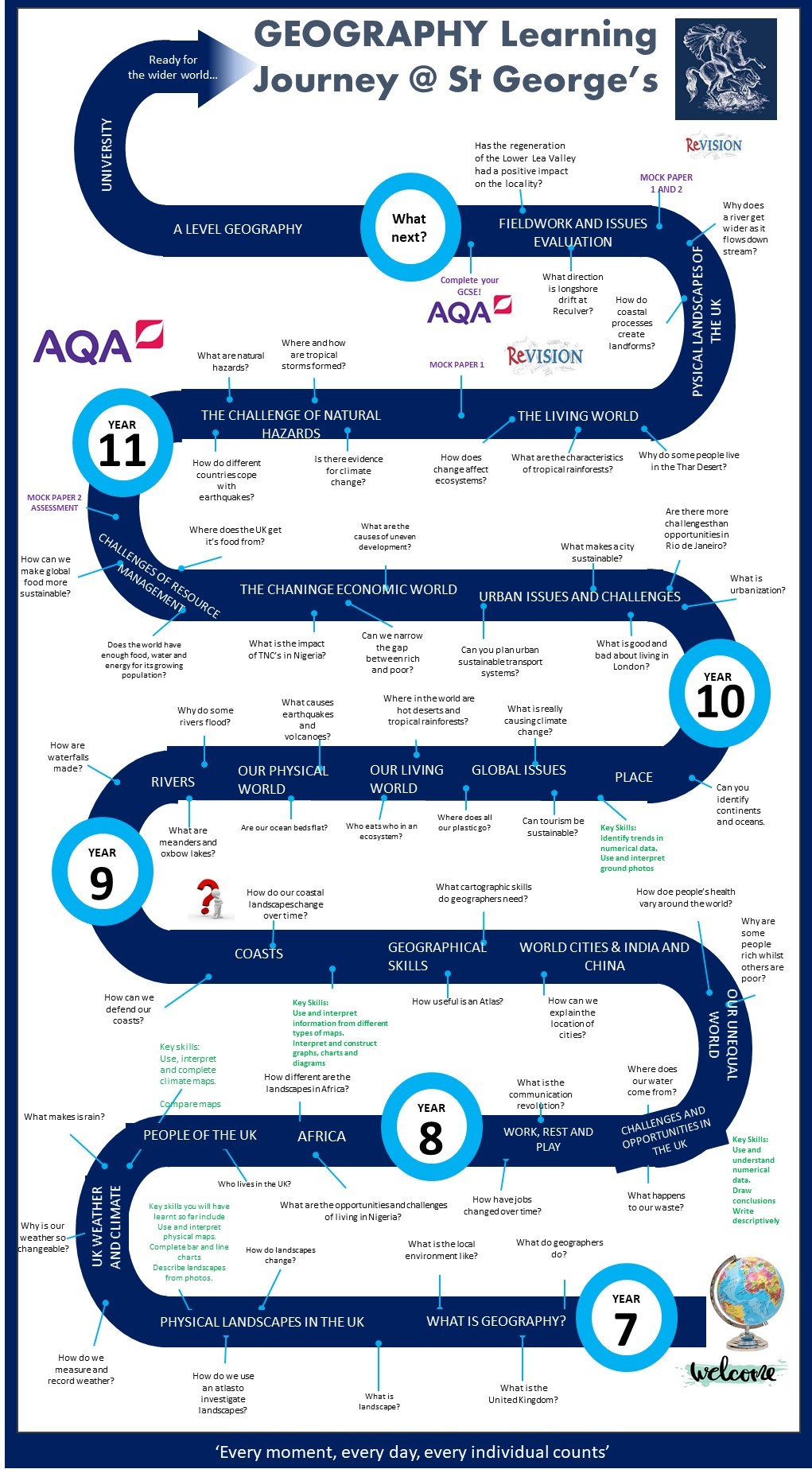 GCSE Revision Information - KS4
General Information (Useful Information for Parents
Useful Websites
BBC Bitesize - Geography
Wordpress - Geography
Any catch up or interventions
Click Here for the Revision Sessions available before the November Mock exams
Personal Learning Checklist Paper 1
Personal Learning Checklist Paper 2
Personal Learning Checklist Paper 3

Living World – Ecosystems, Rainforests

Natural hazards – Plate boundaries, Earthquakes, Tropical Storms, UK Extreme weather, Climate Change

Physical Landscapes – Coast and Rivers

One Question a Day - Click Here

Click Here
Example Exam Questions/Model Answers Paper 1
Example Exam Questions/Model Answers Paper 2
Example Exam Questions/Model Answers Paper 3

Q1 - To what Extent = Click Here

Q2 - Evaluate Fieldwork = Click Here

Q3 - Assess = Click Here

Q4 - To what Extent = Click Here

Q5 - Evaluate = Click Here

Q6 - Assess = Click Here

Choose either an earthquake or a volcanic eruption = Click Here

Coasts Brief = Click Here

Describe and Explain Vegetation Features of TRF (6 Marks) = Click Here

Rivers and Coasts Past Papers Questions = Click Here

Tropical Rainforest Exam Questions = Click Here

Structure Strips - Immediate Long Term Response = Click Here

Structure Strips - To what extent are primary effects more significant than secondary effects = Click Here

Graphics Organiser = Click Here

One Question a day = Click Here

Table of Questions = Click Here

Past Questions for paper 3 - Field study section
Revision Materials/Sharepoint
Pupils must log in with their username as their usual computer login followed by @st-georgescofe-thanet.kent.sch.uk (e.g. JSmith123@st-georgescofe-thanet.kent.sch.uk) and their usual password they use to log on to school laptops
Job Opportunities / Careers
JOB OPPORTUNITIES
Teaching
Environmental Agency
Government
Politics
Tourism and Travel
Geography can be useful in different job families such as environmental science, engineering and manufacturing, animals, agriculture, plants and land, construction, leisure, sport and tourism, transport and logistics