Back to Subjects
Art and Design (Level 2 and 3 BTEC) = Art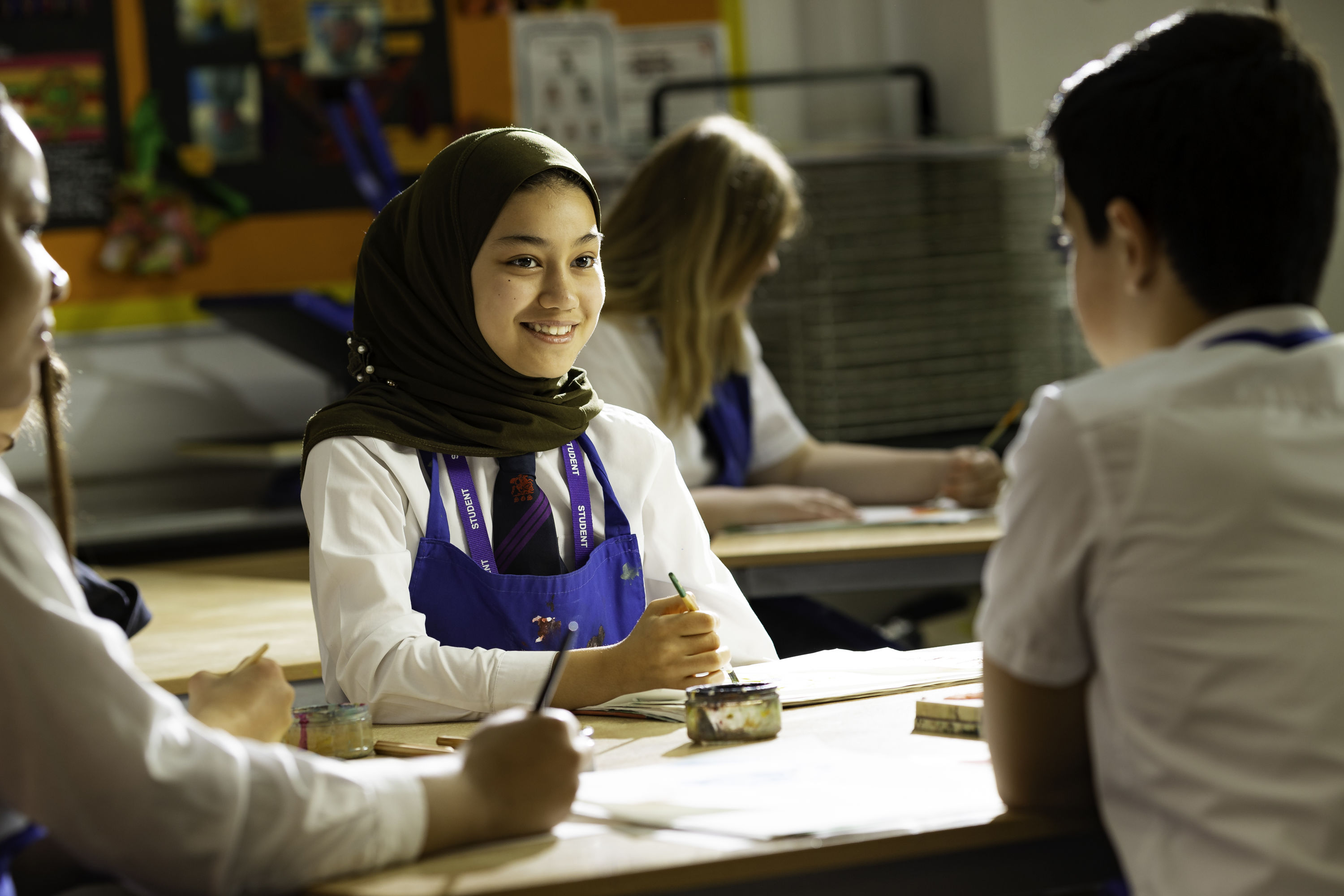 General Subject Information
INTENT
Art Subject Vision:
Art and Textiles provide us with the opportunity to Explore, Interpret, Experiment and respond to the world around us in refreshing, innovative ways. We are given the freedom to express and communicate ideas and meaning, perhaps from perspectives that we have not previously explored, providing us with a unique platform unlike any other, to communicate to our audience.
In 2019 the Office for National Statistics provided the DATA that;
The arts and culture industry has grown £390million in a year and now contributes £10.8billion a year to the UK economy.
The sector contributes £2.8billion a year to the Treasury via taxation, and generates a further £23billion a year and 363,700 jobs.
How the Art curriculum fits into our Whole School Vision:
Broad – Art offers an engaging and stimulating introduction into the world of art and design, giving students the opportunity to develop their own responses to a range of project brief. The programme encourages students to explore and enhance their artistic skills, techniques, knowledge and the opportunity to begin the development of an individual portfolio of art and design work. This is achieved through various projects using a range of different media and specialist equipment. The units focus on the essential elements in art and design which include drawing, painting, printmaking, 3D work and mixed-media.
Stimulating – The programme encourages Students to explore and enhance artistic and creative skills, techniques, and knowledge giving Students the opportunity to begin the development of an individual portfolio of art, media and design work. This is achieved through set projects exploring a number of different topics.
Students will:
Explore, experiment with and learn how to use specialist materials and techniques relevant to the brief.
Develop their chosen specialist skills.
Learn about, and record, the health and safety issues associated with the traditional and contemporary media, techniques and processes that they use.
Enjoyable – Students have the opportunity to develop their art through modelling in 2D and 3D media including clay, straws, mod rock and wire modelling.
Engaging – Students are given the opportunity to develop their own art practice and skills. This allows students in art to express their own creativity.
Motivating – Students are encouraged to research artists and art movements that are linked to their course of study. As well as researching ideas to further investigate their areas of interest.
Challenging - The course provides a basis for progression to further study within art by following the BTEC National Level 3 in the Sixth Form.

IMPLEMENTATION
The Art curriculum has been designed with the intention of providing our students with the skills required to tackle the formal assessment & summative assessments as well the ongoing development of an art portfolio. Students are assessed at the end of the units across the two year course.
Teachers will present subject content clearly, promoting students own development of art related outcomes, as well as research into individual artists that link to the course. Teachers will deliver a selection of art skilled workshops throughout the two-year course to ensure students' knowledge and techniques progress.
IMPACT
Students will make good progress against their art related outcomes, which will mean high attainment; a strong grounding for life in the real world, equipping them with skills such as identifying issues, problem solving, expressing ideas creatively and clearly, developing ideas and communicating these to others. Progress will be monitored against target grades, gap analysis is undertaken after formal assessments to enable staff to identify individual student's areas of weakness and strength, enabling them to offer personalised personal checklist to improve performance.
Our Learning Journey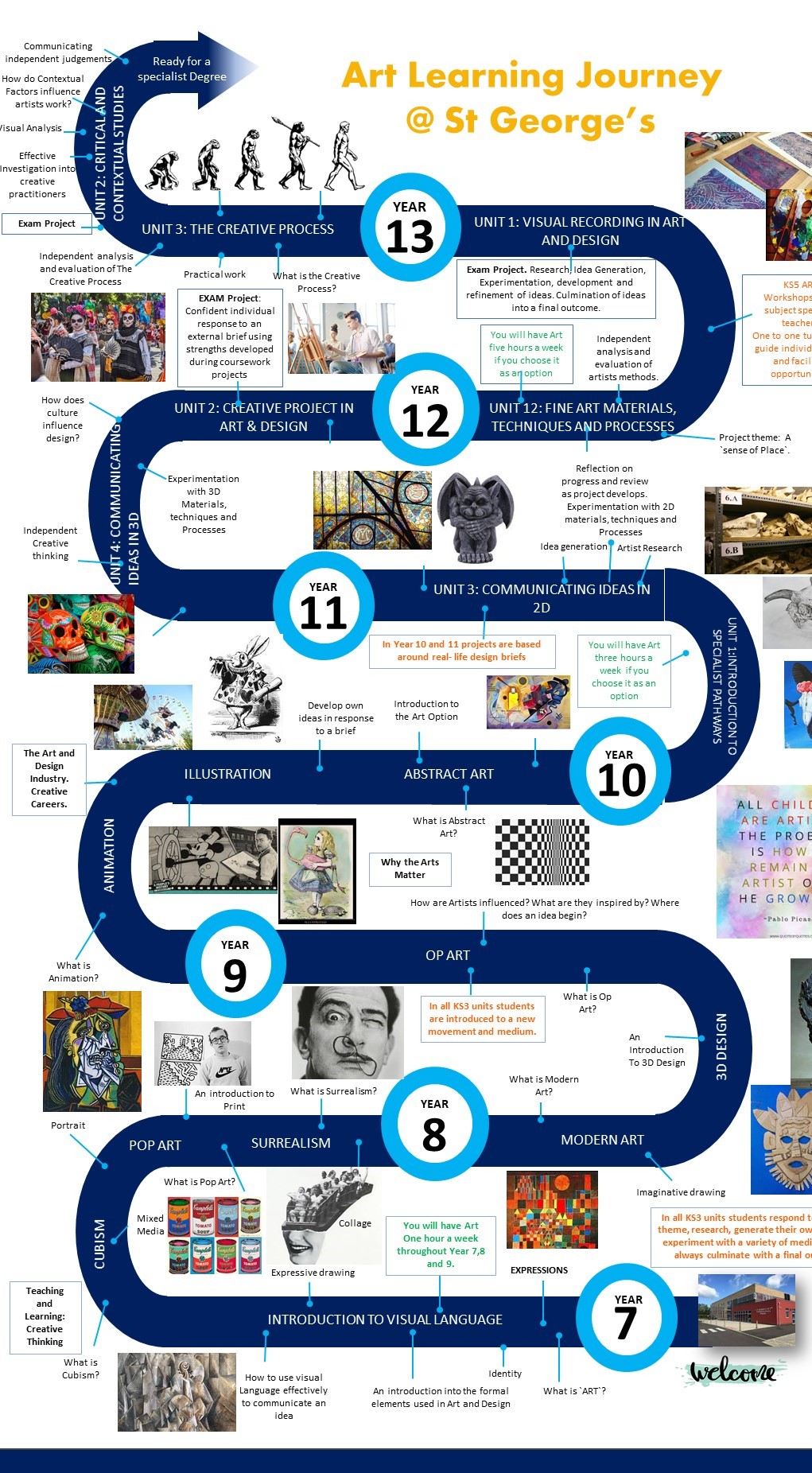 Staff
Homework- KS3
For Year 7-9 homework will relate to the current project theme and will be;
(On 6 weeks terms only two home works will be given as home works are set fortnightly-20 mins)
Key words
Drawing
Key words
The projects for KS3 Art are as follows -
| Term | Year 7 | Year 8 | Year 9 |
| --- | --- | --- | --- |
| 1 | Expressions Project | Surrealism Project | Mexican Day of the Dead |
| 2 | Portrait Project | Earth and Space Project | Dreamland |
| 3 | Haring Project | African Pattern | Tenniel |
| 4 | Pop Art Project | 3D Design | Alice in Wonderland |
| 5 | Dali Project | Escher | Abstract Art |
| 6 | Surrealism Project | Op Art | Art Option |
Homework - KS4
Year 10 and Year 11 BTEC Art students are expected to produce a minimum of one drawing as homework per week that will contribute towards their current project and Art portfolio. Students are welcome to use our Art department facilities during after school sessions with their teacher.
| Year | Task | Time |
| --- | --- | --- |
| Year 10 | Remains the same, a minimum of one drawing per week that supports the current project. | 30 mins |
| Year 11 | Remains the same, a minimum of one drawing per week that supports the current project. | 30 mins |
Homework - KS5
Year 12 - Art

Term 1- Weekly Practical work beyond the classroom that supports the current project

Term 2- Unit 1 External exam revision worksheets

Term 3-6- Weekly Practical work beyond the classroom that supports the current project

60 mins

Year 13 Art

Term 1-2 - Weekly Practical work beyond the classroom that supports the current project

Term 3-4- Unit 2 External exam revision worksheets

Term 5-6 - Weekly Practical work beyond the classroom that supports the current project

60 mins
KS4 Revision - Level 2 First Award
General Information (useful information for Parents)
Pupils` will have a practical Art exam at the end of their two year course and are encouraged to practice independent experimentation with a range of materials, techniques and processes in preparation. Art rooms and resources are available for

BTEC

Art students

afterschool

when this is pre-arranged with the students Art teacher.

BTEC Level 1/2 First Award in Art and Design

Students complete four units in total over the two year course. Three units are internally set and the final unit is externally set. The externally set unit is the practical Art exam. Unit 2, The Art exam project is released in January and is a practical exam. Students are introduced to a project theme and will produce an individual response to this theme. All students will be expected to produce a mood board, artist research boards, a series of experiments in a range of media and will annotate their ideas as the project progresses. The exam project will culminate in a ten hour practical Art exam. The ten hours is divided over a two day period where students are taken off timetable to complete their final outcome for the project. Students will have planned their final outcome prior to the exam, during lesson time.
| | |
| --- | --- |
| Personal Learning Checklists | Unit 1 |
| Example Exam Questions/Model Answers | Unit 2 Example paper |
| Revision Materials/Sharepoint | to follow |
KS5 Revision - Level 3 National
BTEC Level 3 National Certificate in Art and Design
Students complete Unit 1: Visual Recording and Communication as their externally set unit. The exam project will be released in January and students will be expected to produce practical work in response to a set theme. At the end of the practical work students will sit a three hour supervised written exam where they will produce 800 words on the practical work that they have produced.
For the written element students will be assessed on;
A01- Understand how recording is used to communicate visually in the work of others
A02- Demonstrate understanding of visual communication through exploration of different methods of recording
A03- Demonstrate ability to record to communicate intentions
A04- Evaluate visual recording and communication skills
BTEC Level 3 National Extended Certificate in Art and Design
Students complete Unit 2: Critical and Contextual Studies in Art and Design, as their externally set unit. The exam project will be released in April and students will have time to complete contextual research in preparation for their exam. At the end of this prep work students will sit a five hour supervised written exam where they will be asked to analyse and evaluate the work of artists, based around a set theme.
Students will be assessed on;
A01- Be able to apply an effective investigation process to inform understanding of creative practitioners
A02- Demonstrate the ability to visually analyse the work of creative practitioners
A03- Demonstrate understanding of how contextual factors relate to creative practitioners` work
A04- Communicate independent judgements demonstrating understanding of the work of creative practitioners
Job Opportunities / Careers
Fine artist
Fine artists create original works of art. This can be in any medium, such as paint, wood, metal or textiles. What distinguishes the work of fine artists from most other careers on this list is that its purpose is purely to be a work of art, rather than to add visual appeal to something with a functional purpose (such as making a building, clothing item or webpage look good). Fine artists make money by selling their work, and many have another job too to give them a regular, reliable income. You don't have to have qualifications in art to be an artist, but a degree in art is a typical starting point.
Art Lecturer
As an Higher Education lecturer, you'll need expertise in your subject area in order to teach students. Teaching methods include lectures, seminars, tutorials, practical demonstrations, field work and e-learning. Multimedia technologies are becoming increasingly used.
Animator
There are many different types of animation, including 2D, stop-motion, 3D hand-drawn and computer-generated, but all roles call for high levels of creativity and passion
An animator produces multiple images called frames, which when sequenced together create an illusion of movement - this is known as animation. The images can be made up of digital or hand-drawn pictures, models or puppets.
Animators tend to work in 2D, 3D model-making, stop-frame or computer-generated animation.
Computer-generated animation features strongly in motion pictures (to create special effects or an animated film in its own right), as well as in aspects of television, the Internet and the computer games industry.
The basic skill of animation still relies heavily on artistic ability, but there is an increasing need for animators to be familiar with technical computer packages.
Ceramics Designer
Ceramics designers create designs for a range of pottery objects that are then made by shaping and firing clay.
As a ceramics designer, you'll create designs for a range of objects and work with materials such as clay, porcelain, bone china and stoneware to make the products. You'll usually also paint or glaze the item to finish it off.
Alternative titles for this role include ceramicist and potter.
Conservator
Conservators need to know how to care for artefacts, how they deteriorate and how to give them a new lease of life
As a conservator, you'll care for cultural collections by applying scientific methods to preserve and restore artefacts.
Depending on which area of conservation you're working in, you may be involved in treating objects directly - known as remedial conservation - to prevent deterioration, stabilise the object and undertake restoration (if appropriate), or you might focus on monitoring and controlling the environment in which collections are stored or displayed to prevent deterioration in the first place - this is known as preventive conservation. In some roles, you'll work on a combination of the two.
Many conservators work in museums and galleries. However, many others are self-employed and work on a freelance basis.
Exhibition designer
As an exhibition designer, you'll work on large commercial public exhibitions, showcase events, trade shows and conferences for trade, industry or education, or on cultural exhibitions for museums, libraries and galleries. You might also work on temporary displays for businesses and retailers.
You'll be responsible for creating an exhibition that works on several levels. It must:
have aesthetic appeal
be practical
communicate the client's message, concept and image to visitors
meet the limitations imposed by space and budget.
You'll base your designs on your interpretation of the client's ideas and requirements and will also provide your own ideas in relation to product concept and customer appeal.
Some designers also have responsibility for overseeing the implementation and building of the exhibition or display stand, while others will specialise in just one specific area.
Game Artist
Game artists use software packages to create the visual elements of a game in either 3D or 2D for one or more platforms, such as mobile, PC, arcade or console.
You'll typically work as part of a multidisciplinary team with designers, developers, animators and quality assurance testers, as well as those involved in the management and marketing of the game.
Job titles vary and may include 3D artist, games artist, environment artist, character artist, texture artist or lighting artist.
Illustrator
Illustrators are commissioned to create still drawings and images to communicate a story, message or idea, which are then used in advertisements, books, magazines, packaging, greeting cards and newspapers.
You'll work to commercial briefs to inform, persuade or entertain a client's intended audience, adjusting the mood and style of images accordingly.
You'll typically specialise in a particular design medium, such as drawing, photography or digital illustration.
Product Designer
As a product designer you'll create a range of items, from everyday products such as mobile phones, household appliances and cars, to larger items such as industrial tools, equipment and machinery.
You might work on new products or improve existing ones, and use your understanding of technology, materials and manufacturing methods to improve the design and usability of an item. The work involves:
designing
modelling
prototyping
testing.
For more inspiration about Art based careers visit:
https://www.prospects.ac.uk/job-profiles/browse-sector/creative-arts-and-design
Useful links to universities
degrees within art based subjects
https://www.gold.ac.uk/ug/ba-fine-art/ = BA FINE ART
https://www.northampton.ac.uk/courses/fine-art-painting-and-drawing/ = Fine Art Painting and Drawing BA (Hons)
https://www.uca.ac.uk/study/courses/ba-illustration/ = Illustration BA (Hons)
http://www.gsa.ac.uk/study/undergraduate-degrees/interior-design/ = BA(Hons) Interior Design