Back to Subjects
RE (up to GCSE)
Subject Vision
Vision for Religious Education
The vision for Religious Education at St George's is to be a subject at the heart of the curriculum, enabling pupils to flourish academically, morally and spiritually. Religious Education will make a valuable contribution to a broad, stimulating curriculum, leading to well-rounded individuals who are prepared for the next stage in their lives.
Religious Education is a subject that every child will take for GCSE and opportunities for study will be provided from Early Years through to Sixth Form. The curriculum will focus predominantly on Christianity, but will include a range of other worldviews, both religious and non-religious.
Our aims and vision are informed by the school curriculum vision, the Kent Agreed Syllabus principal aim for RE (below) and Church of England Statement of Entitlement.
"The principal aim of RE, is to engage pupils in systematic enquiry into significant human questions which religion and worldviews address, so that they can develop the understanding and skills needed to appreciate and appraise varied responses to these questions, as well as develop responses of their own". (KAS, 2018)
Staff
Our Learning Journey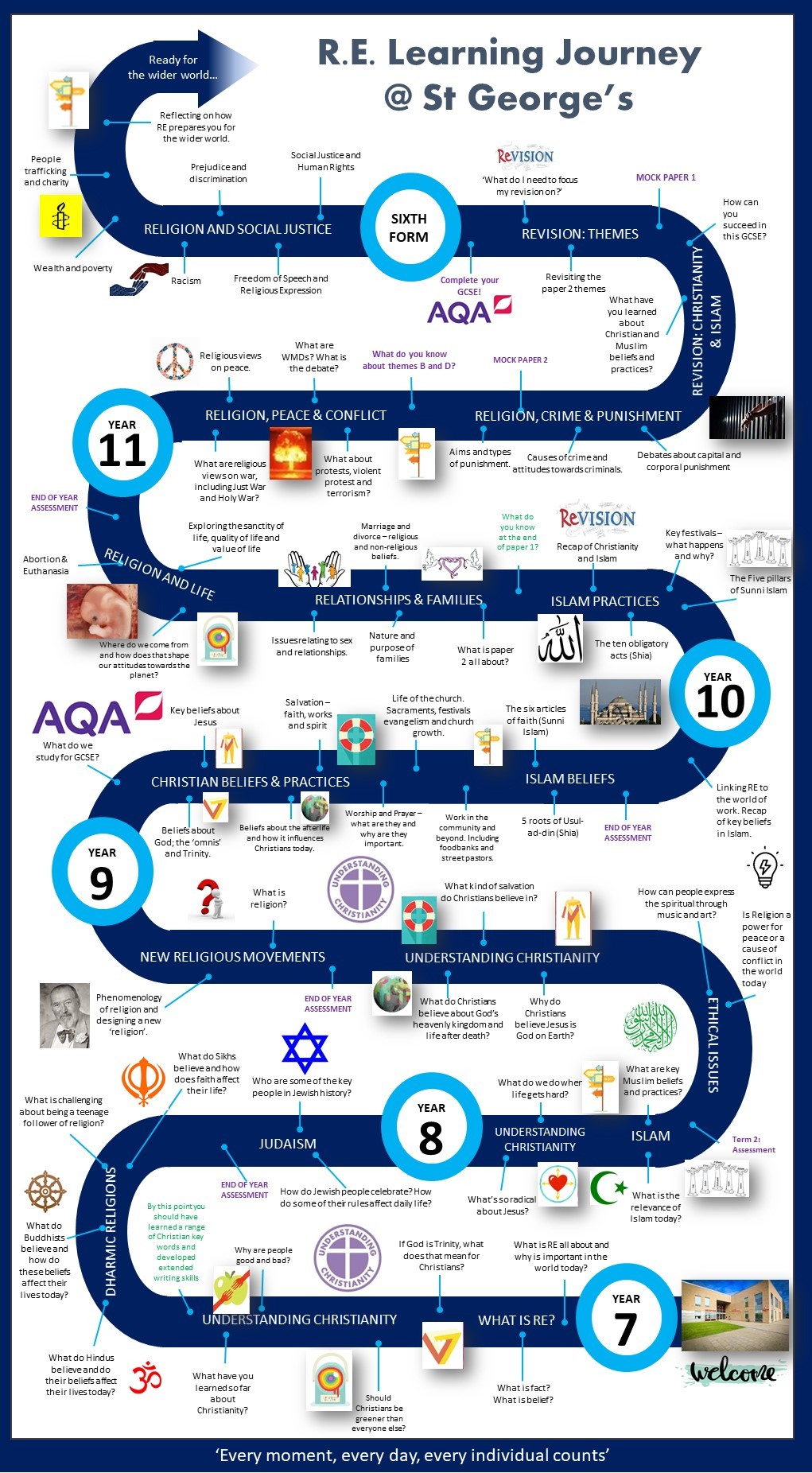 Homework
Homework tasks will be set weekly at KS4 and fortnightly at KS3. A variety of tasks will be set, in order to develop a secure subject knowledge and to develop their ability to answer assessment questions.
Homework tasks for the term are given out by the teacher at the start of each term and can be downloaded by clicking on the appropriate link below:
KS3 and KS4 Homework
---


Check the Curriculum Year information for the homework timetable.
GCSE Revision Information - KS4
GENERAL INFORMATION (USEFUL INFORMATION FOR PARENTS)
AQA Paper 1:
AQA Paper 2:

Section A: Christianity

Beliefs and Teachings
Practices

Section B: Islam

Beliefs and Teachings
Practices

Students must only answer these four sections out of the available 6.

Theme A Relationships and families
Theme B Religion and Life
Theme D Religion, Peace and Conflict
Theme E Religion, Crime and Punishment
Job Opportunities / Careers
CAREER AND JOB OPPORTUNITIES
Religious Studies GCSE can be used to pursue further education, especially A-Levels such as Philosophy, Sociology and other humanities subjects. The subject has clear links to work within the religious or charity sectors but also within a range of other professions such as the Police, Social Work, Counselling, Youth Work and Teaching.
Further information about Religious Studies and careers or further education opportunities can be found at https://www.ucas.com/job-subjects/religious-studies
Case Studies - http://casestudies.reonline.org.uk/