Back to Subjects
Applied Law (Level 3 BTEC)
General Subject Information
Applied Law is a course that is only available in the Sixth Form for Year 12 and 13 students. The course introduces the basics of the legal sector, such as court structure and the ways that Laws are made as well as aspects of criminal law, covering differences against true person and property like assault, murder, theft and fraud. The whole school vision is achieved by providing a curriculum that is -
Broad – The content of the course ranges from the hierarchy and structure of the legal system for both civil and criminal cases, funding and sources of legal advice to police powers and sentencing trends. The course will develop knowledge, understanding and skills relevant to careers in the legal sector from paralegal to coroner to law enforement and beyond applying high value transferrable skills such as research, presentation, appropriate communication and problem solving.
Stimulating –Are stop and search powers justifiable? Can any killing be considered lawful? Who should pay for legal advice and representation? Who decides what is legal? Students have the opportunity to consider questions like these alongside many other important issues that occur in society and the justice system. Students will gain confidence in their own lives with a good understanding of their own rights and responsibilities and need not fear engaging with the justice system.
Enjoyable – Students apply their knowledge to a wealth of realistic scenarios, challenging the status quo and arguing for their client. They have the opportunity to research and generate arguments on relevant topics and issues which affect them in a real world simulation - students are the lawyers.
Engaging – With guest speakers from across the legal sector and the opportunity to visit law schools and the Magistrates court, students have the opportunity to see their futures. This is supported with extensive careers focus in lessons to help students understand the real life application of the work that they are doing. Furthermore, students are required to write in a range of styles. Into 2022 these may continue as virtual experiences rather than face to face.
Challenging – This course requires students to challenge their opinions and perceptions by considering a situation from a range of perspectives. Students are prepared for the demands of further education and employment through practice researching, building arguments, and meeting presentation requirements and deadlines. The assessment process replicates the experience of working with a client with some initial information given to stimulate research and then a full case study which students have to offer advice on using their research and knowledge. There is also an academic challenge in the work students do, encouraging them to debate and reason controversial, intellectual issues presenting clear, supported arguments.
Staff
Our Learning Journey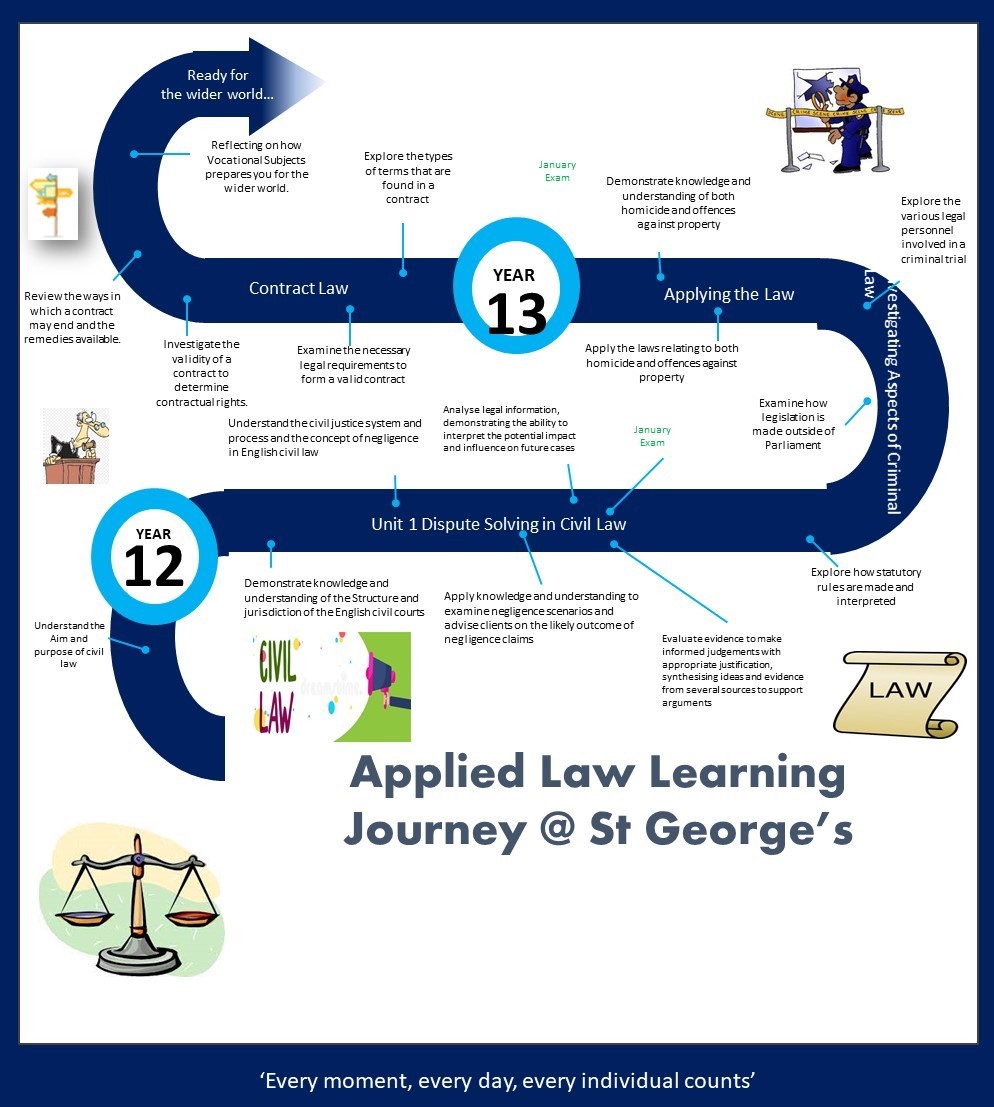 Revision - BTEC Level 3 National (KS5)
GENERAL INFORMATION (USEFUL INFORMATION FOR PARENTS)
Paper examination
Range of questions from multiple choice to extended written answers
Graded from U through to Distinction
Job Opportunities / Careers
CAREERS IN LAW
Solicitor
Provide advice and assistance on legal issues, they are the first point of contact for people and organisations seeking advice and representation
Work in either law firms or 'in-house' at a company
Role involves; meeting with clients, researching the relevant areas of law, drafting letters and contracts, representing clients in negotiations and tribunals
The role will vary depending on the area of law in which the solicitor works eg. crime, corporate/commercial, employment, family, human rights, intellectual property
Skills required; communication, research, presentation, organisation, time keeping and professionalism
Trainee salaries range from £20,000 to £35,000 upwards with Partners earning around £75,000 upwards.
Chartered legal executives
Non-degree based route into law, work through a series of apprenticeships.
Qualified lawyer who is trained as a specialist in a particular area of law. They work alongside solicitors but also have rights of audience and can represent clients.
Skills required; communication, research, presentation, organisation, time keeping and professionalism
Starting salaries range from £15,000 to £28,000 with Executive Lawyers earning £35,000 to £55,000 upwards.
Usher
Non-degree based role within the court.
Prepare the courtroom, call defendants and witnesses, accompany the jury around the courtroom and pass messages between the judge and jury.
Skills requires; communication and people skills, discretion and confidentiality, ability to follow instructions, assertiveness and tactfulness
Salaries range from £16,000 to £19,000
Considering a career in law? Take a look at these websites to get you started.
LawCareers.Net | all about law careers
Law and legal | Explore careers (nationalcareers.service.gov.uk)
Current pupils can access Unifrog using their school email addresses.
Law and law studies : Subjects library (unifrog.org)
Criminology : Subjects library (unifrog.org)