Back to Subjects
Business Studies (Level 2 and 3 BTEC)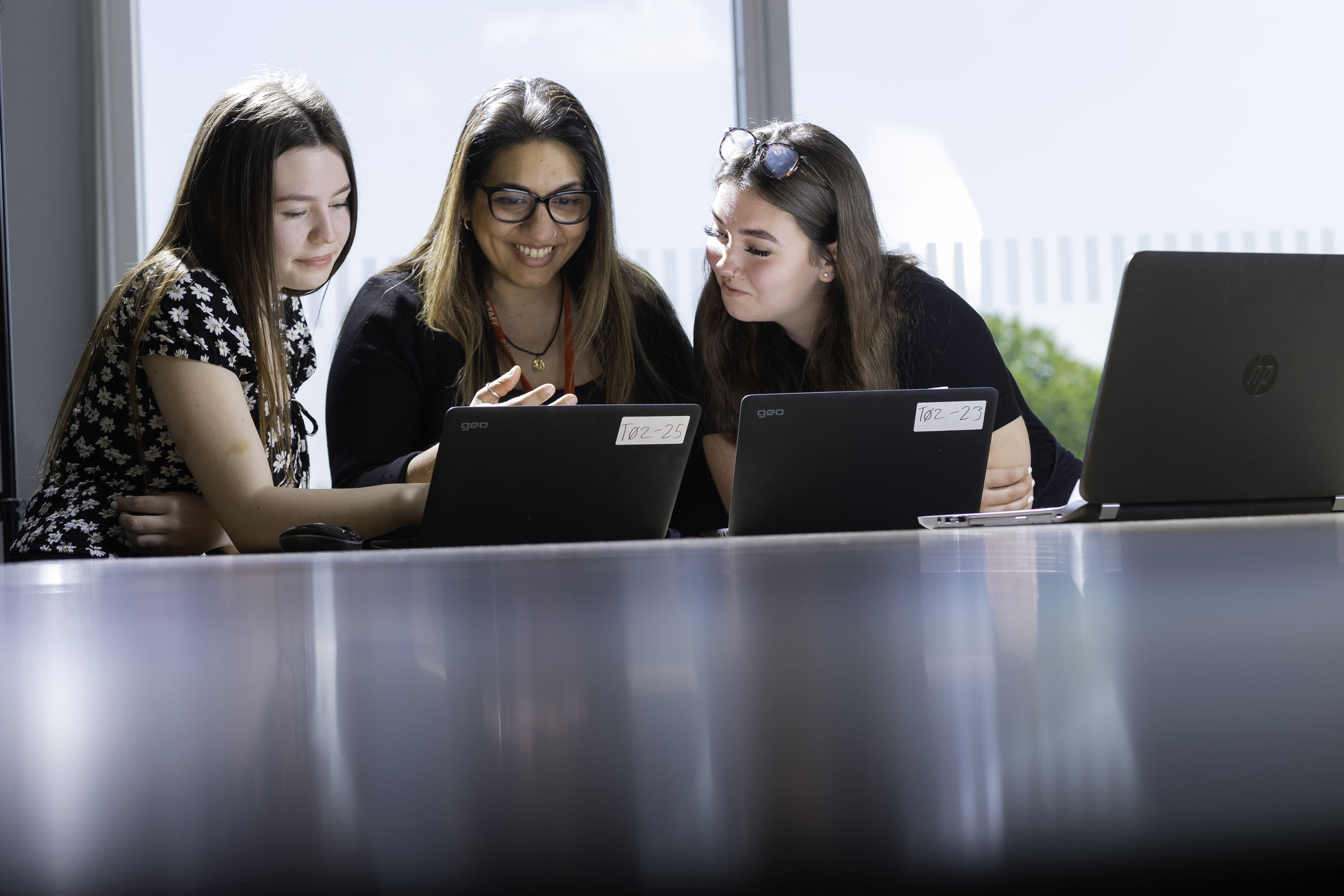 Subject vision
Curriculum Vision
"A broad, stimulating and enjoyable curriculum, that engages, motivates and challenges all pupils, giving them the knowledge, skills and understanding to grow as individuals, preparing them for the next stage in their lives"
In business, we incorporate the curriculum vision by:
Broad
Teaching a range of business topics to allow pupil's knowledge to be developed in a variety of matters
Topics include marketing, finance, recruitment and selection, ownership, factors affecting business success and innovation
Stimulating
Encouraging the growth of pupil's wider skills such communication, interpersonal and leadership, as well as business specific skills
Assignments allow students to be stimulated by the range of tasks involved including creating and presenting a presentation, producing written assignments and taking part in practical activities such as interviews
Enjoyable
Pupils are given the freedom to explore businesses of their own choosing to provoke further interest
A range of group work and individual work is used to complete tasks
Engaging
Employing a range of teaching resources to engage pupils and strengthen their understanding of topics including group tasks, individual tasks, research tasks and the use of real life case studies
Developing knowledge of personal finance, ready for the pupil's futures
Real life business examples are provided when teaching each topic using either personal experience or relevant cases
Motivating
Developing links with local businesses to engage and motivate pupils and show them possible future pathways
Linking the teaching of different topics to possible future careers for pupils and demonstrating how studying the subject can link in with any potential future pathway
Challenging
Pupils are challenged and pushed to attain the highest criteria that they can by demonstrating how to achieve the higher grades and giving verbal and written feedback that pushes pupils to be able to achieve these
Staff
Homework
Homework is set weekly and is related to the topics studied in class, at that time. These include a variety of activities, from set questions to research, and coursework based tasks.
---


Check the Curriculum Year information for the homework timetable.
Our Learning Journey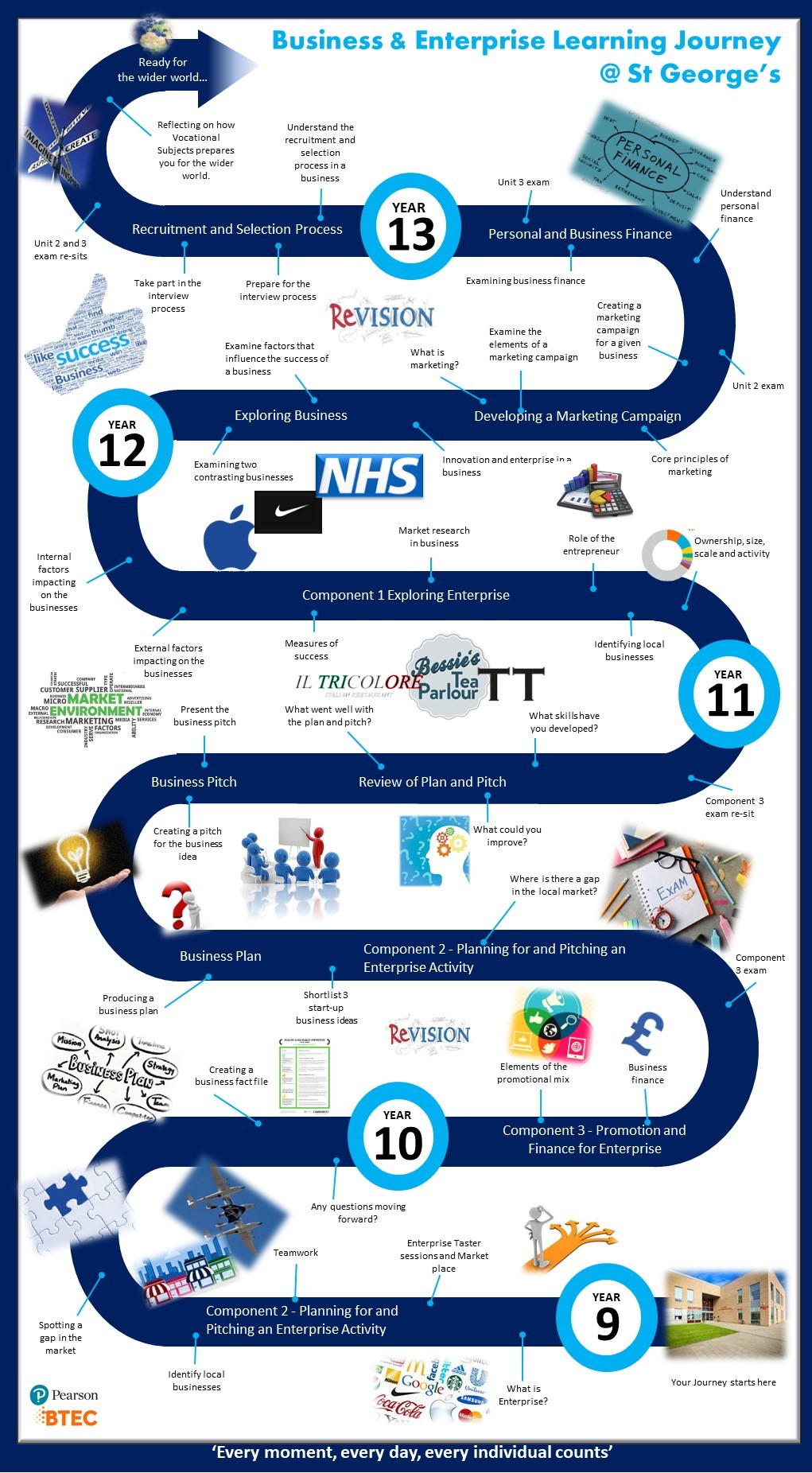 Revision - BTEC Level 2 Tech Award (KS4)
GENERAL INFORMATION (USEFUL INFORMATION FOR PARENTS)
Paper examination
Range of questions from multiple choice to extended written answers
Graded from U through to Distinction
| | |
| --- | --- |
| Personal Learning Checklist | Click Here |
| Example Exam Questions/Model Answers | |
| Revision Materials/Sharepoint | (Pupils must log in with their username as their usual computer login followed by @st-georgescofe-thanet.kent.sch.uk (e.g. JSmith123@st-georgescofe-thanet.kent.sch.uk) and their usual password they use to log on to school laptops) |
Revision - BTEC Level 3 National (KS5)
GENERAL INFORMATION (USEFUL INFORMATION FOR PARENTS)
Paper examination
Range of questions from multiple choice to extended written answers
Graded from U through to Distinction
Personal Learning Checklist

Unit 2 = Click Here

Unit 3 = Click Here

Example Exam Questions/Model Answers

Unit 2

Unit 3

Revision Materials/Sharepoint
Click here

(Pupils must log in with their username as their usual computer login followed by @st-georgescofe-thanet.kent.sch.uk (e.g. JSmith123@st-georgescofe-thanet.kent.sch.uk) and their usual password they use to log on to school laptops)
Job Opportunities
Global Brand & Marketing Director
Pay: £70,000 - £90,000 a year
Responsibilities:
Design, develop and review our marketing strategy for a number of different projects
Overseeing the marketing department, activities and quality of work through leadership and providing clear tasks and objectives
Manage a budget and use financial strategy to advice all marketing plans
Planning, directing and coordinating marketing events including product launch
Support the sales operation by ensuring products and services are launched internally
Designing and implementing a calendar of activity, including maximising market opportunities
Ability to adapt to market opportunities and create ad hoc campaigns
Research demand for products and services and communicate this with stakeholders
Develop and manage advertising campaigns, reviewing their success and ROI
Building brand awareness and positioning
Accountant
Pay: £28,000 - £30,000 a year
Responsibilities:
The completion of year-end accounts
General administration duties
Meet statutory deadlines for VAT, Payroll, Statutory Accounts, Company and Personal
Liaising with HMRC on behalf of clients
Taking on and managing new clients
Growing the business through referrals
Respond to client inquiries in line with the company policy
Manage the client relationship whilst building a strong rapport and developing client loyalty
Working as a team to continuously deliver the agreed level of service
Human Resource Partner
Pay: £30,000 - £40,000 a year
Responsibilities
Coach and support Team Leads and Area Managers on HR related topics
Employee case management in line with local legislation
Support investigations in line with local legislation
Support implementation to address and improve the workplace environment and employee engagement
Collaborate with internal stakeholders to execute hiring, recruiting and engagement initiatives
Partner with the HR team to develop, implement and maintain communication plans
Lead or support HR projects as assigned
Collect and analyse data to assist the HR team to draw insights on attrition, attendance, workforce management, recruitment and engagement initiatives