Back to Subjects
History (up to GCSE)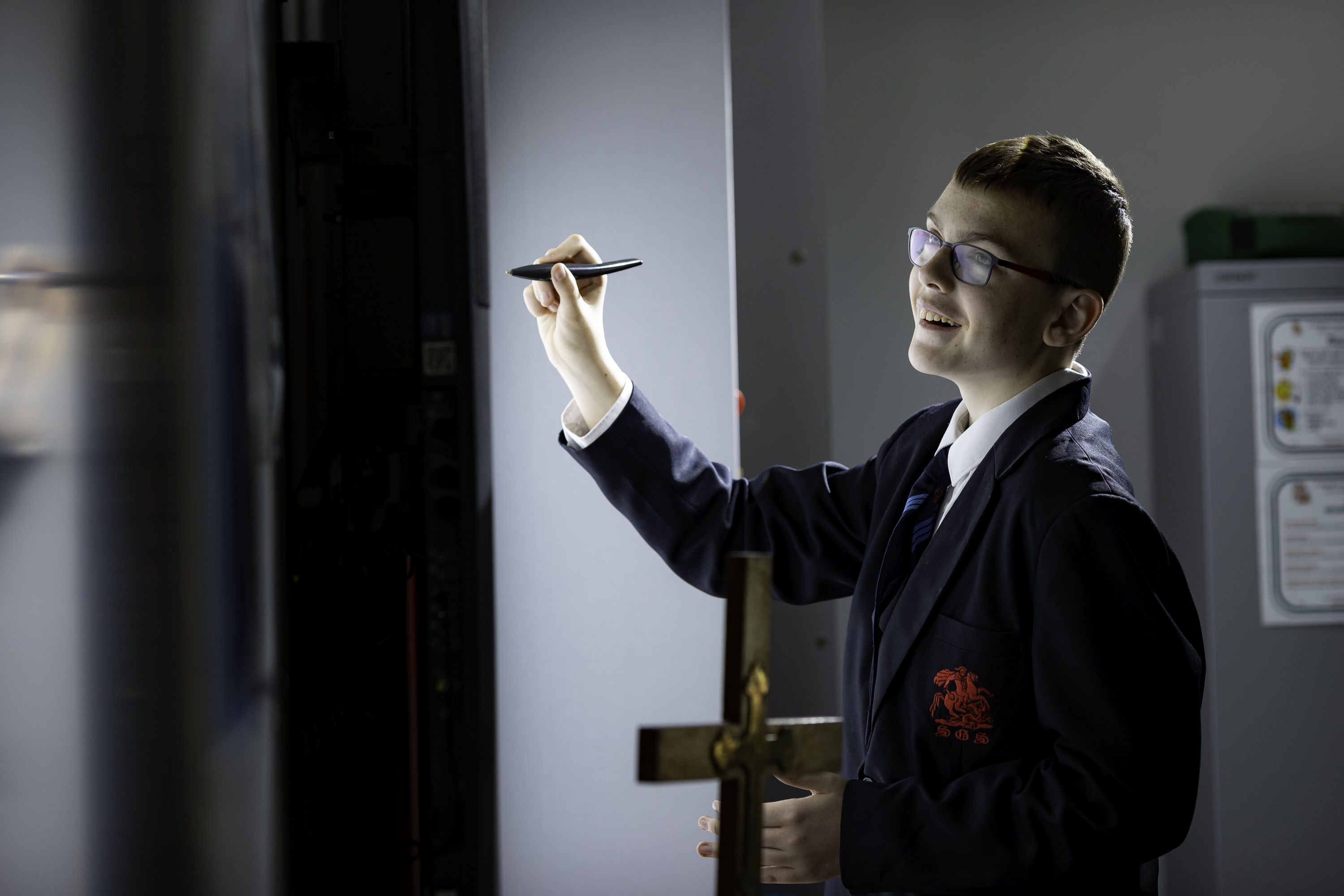 History GCSE is a good academic subject to have as part of a range of qualifications because it is universally recognised and accepted for a wide range of jobs or further education courses. This is because History teaches core skills such as interpretation, analysis, and evaluation as well as an understanding of the past, which of course, shapes our future.
Ms O'Sullivan, Teacher of History
Subject Vision
Our History Curriculum
St George's provides a broad, stimulating and enjoyable curriculum, which engages, motivates and challenges all pupils, giving them the knowledge, skills and understanding to grow as individuals, preparing them for the next stage in their lives.
Broad – We ensure our pupils have a broad understanding of Britain and the wider world across different time periods.
Stimulating – We provide stimulation through teaching historical concepts for example: change and continuity, cause and consequence, and significance. Using them to analyse the past.
Enjoyable – We believe that history is enjoyable when pupils have the opportunity to experience a range of activities that allow them to make the most of their individual skills.
Engaging – We believe that through the study of history our pupils can make links and gain a wider understanding of current topics and events.
Motivating – We believe that through motivation we engender a lifelong love of history.
Challenging – We believe that our pupils deserve the opportunity to engage with evidence and arguments about the past that stretch and challenge their preconceived ideas about the world.
Staff
Homework
---


Check the Curriculum Year information for the homework timetable.
Our Learning Journey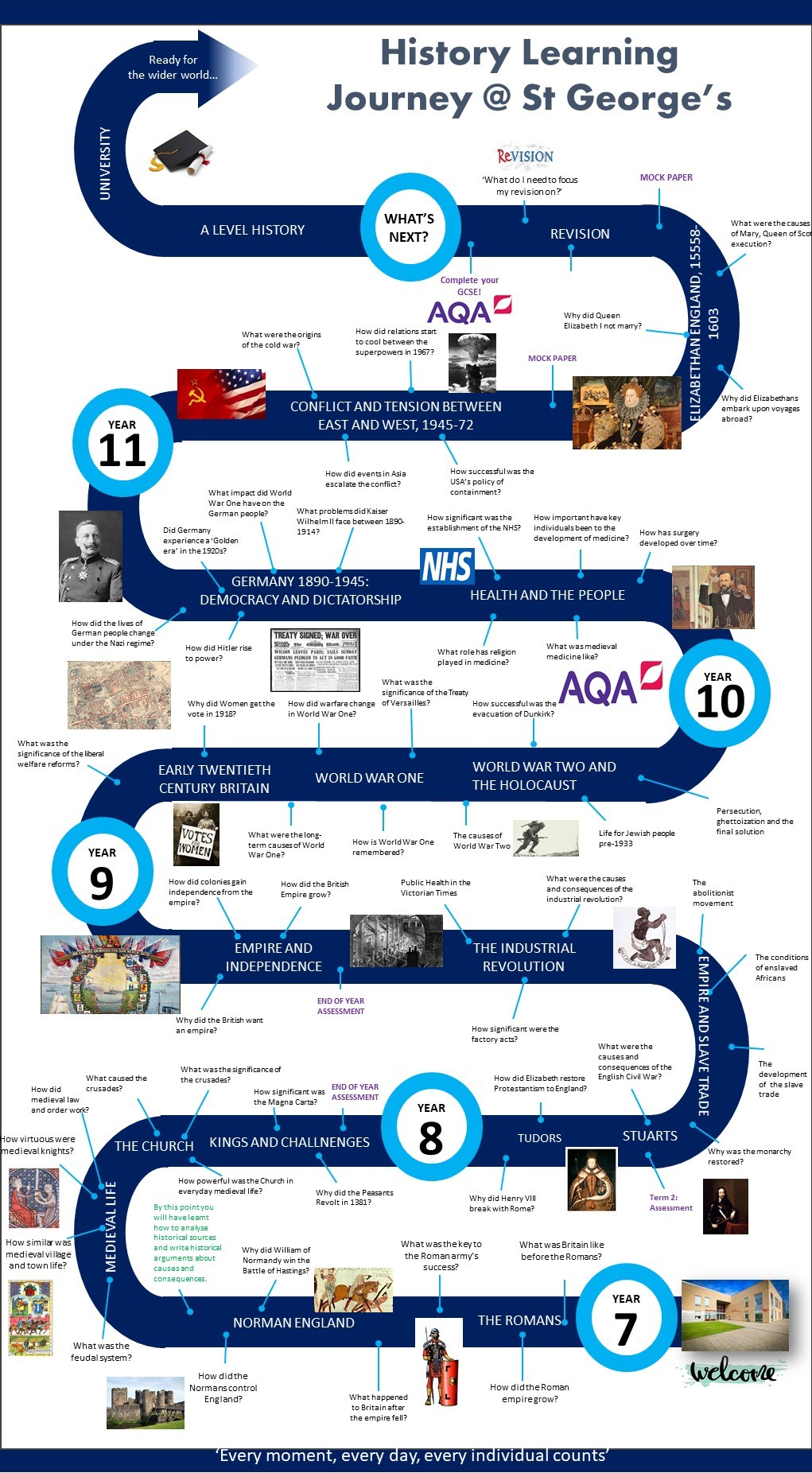 GCSE Subject information - KS4
Course Content
History pupils at St George's study the AQA course
The first paper will cover the following topics:
Germany, 1890–1945: Democracy and dictatorship
Germany and the growth of democracy
Germany and the Depression
The experiences of Germans under the Nazis
Conflict and tension between East and West, 1945–1972
The origins of the Cold War
The development of the Cold War
Transformation of the Cold War
The second paper will cover the following topics:
Britain: Health and the people: c1000 to the present day
Medicine stands still
The beginnings of change
A revolution in medicine
Modern medicine
Elizabethan England, c1568–1603
Elizabeth's court and parliament
Life in Elizabethan times
Troubles at home and abroad
The historic environment of Elizabethan England
How the course is assessed
Pupils study four topics, which are assessed in two 2 hour exams at the end of year 11.
Where Next?
Pupils who study GCSE History often choose to continue to study it at A Level, or use it as a stepping-stone to other similar subjects like Government and Politics or Law.
Job Opportunities
Studying History can lead to a whole host of exciting career options, including Journalism, Law, Business, Politics, Archaeology, Marketing, Teaching, Banking and Acting.
GCSE Revision Information - KS4
General Information (Useful Informaiton for Parents)
We follow the AQA syllabus.

Students have been issued with passwords and user names for the Pixl History App. Use the link below to access it on a computer, or download the App from an App store. Click Here
A highly recommended resource is the BBC Teach YouTube channel which has many videos suitable for the Germany and Health units. Click Here
There are currently two revision guides are available from finance. The CGP guide is £3.25 and contains revision notes on Germany, Health and Elizabeth, but not the Cold War. The Hodder Guide is £7.50 and contains revision notes and tips on all four units. It also has a link to a revision site that has quick quizzes and example answers to exam questions.
The final place to find revision resources is the student area of the school SharePoint. Here you will find a range of different activities to stretch and challenge you.
We recommend BBC Bitesize - History
| Personal Learning Checklist - Paper 1 | Personal Learning Checklist - Paper 2 |
| --- | --- |
| | |
Revision Materials/Sharepoint
Pupils must log in with their username as their usual computer login followed by @st-georgescofe-thanet.kent.sch.uk (e.g. JSmith123@st-georgescofe-thanet.kent.sch.uk) and their usual password they use to log on to school laptops
Job Opportunities / Careers