Back to Subjects
Hospitality and Catering (Level 2 BTEC)
Subject Vision
INTENT heading followed by Subject Vision statement
How the Hospitality and Catering curriculum fits into our Whole School Vision:
Broad – WJEC Hospitality and Catering offers an engaging and stimulating introduction into the world of the Hospitality and Catering industry, giving students the opportunity to develop knowledge in all industry areas and practical technical skills. Students explore a range of establishments, services provided, health and safety, job roles along with high skill planning, making and presentation skills and techniques.
Stimulating – Students are given the opportunity to develop an understanding for the Hospitality and Catering industry using real life case scenarios. A range of skills are taught through hands on practical sessions.
Enjoyable – Students have the opportunity to explore a range of practical sessions, adapting ingredients to suit individual needs. Students have the opportunity to present dishes using exciting methods.
Engaging – We look at preparation for employment in the Hospitality and Catering industry and the skills and opportunities required to progress through a range of career paths. We have the opportunity to invite guest speakers, including the Royal Navy and local catering college to visit school.
Motivating – Students are encouraged to research local establishments, watch industry related programmes to support their learning. It is suggested that students use their findings to help further support them in both theory and practical sessions.
Challenging – The course provides a basis for progression to further study in this sector by completing a suitable Level 3 course in college or progressing into the work environment with an apprenticeship.

IMPLEMENTATION

The Hospitality and Catering curriculum has been designed with the intention of providing our students with the skills required to tackle the formal assessment (x1 paper external examination) in Year 10 followed by a further controlled assessment unit task and practical exam in Year 11. Both units to the course should be completed.
Teachers will present subject content clearly, promoting appropriate discussion, checking learning, identify misconceptions accurately and provide clear, direct feedback. As a result teachers will respond and adapt their teaching as necessary.
Assessments will be delivered in a way that promotes long-term memory as well as the appropriate exam technique required to respond effectively to questioning and structure exam style questions appropriately.
IMPACT
Students will make good progress against their outcomes, which will mean high attainment; a strong grounding for life in the real world, equipping them with skills such as identifying issues, problem solving, expressing ideas creatively and clearly, developing ideas and communicating these to others. Progress will be monitored against target grades, gap analysis is undertaken after formal assessments to enable staff to identify individual student's areas of weakness and strength, enabling them to offer personalised personal checklist to improve performance.
Staff
Our Learning Journey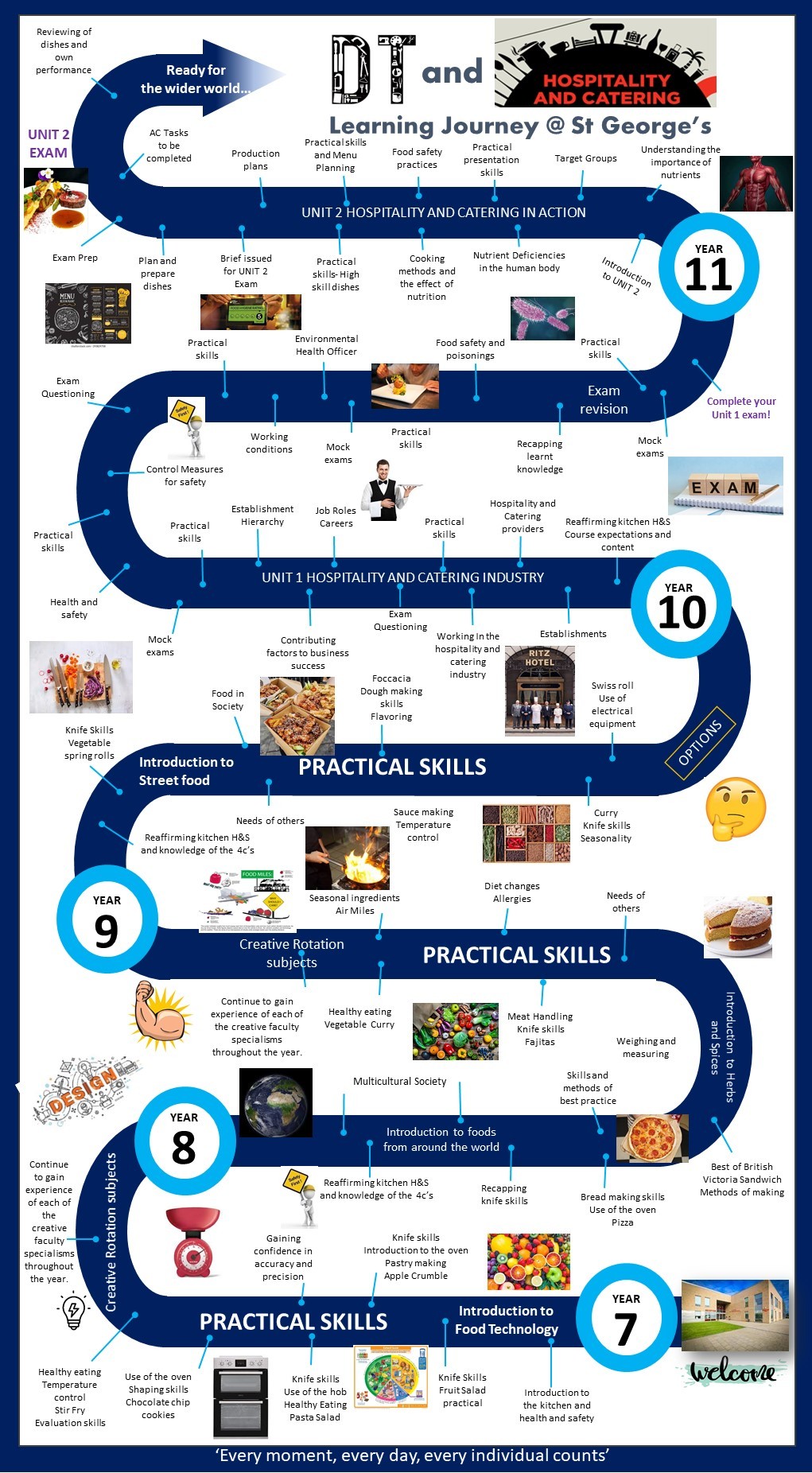 Homework
Homework is set weekly and is related to the topics studied in class, at that time. These include a variety of activities, from set questions to research, and coursework based tasks.
| | | |
| --- | --- | --- |
| Year | Task | Time |
| Year 10 | Weekly activity sheet based on Unit 1- The industry | 25-45 mins |
Year 10 Link to purchasing a revision guide for personal use: Click Here
---


Check the Curriculum Year information for the homework timetable.
KS3 Subject Information
Level 2 Subject Information - KS4
WJEC Level 1/2 Vocational Award
The WJEC Level 1/2 Award in Hospitality and Catering is made up of two mandatory units:
Unit 1: The Hospitality and Catering Industry
Unit 2: Hospitality and Catering in Action
Learners must complete both units.
This structure has been designed to develop in learners the knowledge and understanding related to a range of hospitality and catering providers; how they operate and what they have to take into account to be successful. There is the opportunity to learn about issues related to nutrition and food safety and how they affect successful hospitality and catering operations. In this qualification, learners will also have the opportunity to develop some food preparation and cooking skills as well as transferable skills of problem solving, organisation and time management, planning and communication.
Through the two units, learners will gain an overview of the hospitality and catering industry and the type of job roles that may be available to assist them in making choices about progression. Successful completion of this qualification could support entry to qualifications that develop specific skills for work in hospitality and catering such as:
Level 1 Certificate in Introduction to Professional Food and Beverage Service Skills
Level 2 Certificate in Professional Food and Beverage Service Skills
Level or Level 2 NVQ Diploma in Professional Cookery
Where the WJEC Level 1/2 Award in Hospitality and Catering is achieved together with other relevant Level 1/2 qualifications, such as GCSEs in English and Maths and Science, learners may be able to access Level 3 qualifications relevant to the hospitality and catering sector, such as
WJEC Level 3 Food, Science and Nutrition (certificate and diploma)
Level 3 NVQ Diploma in Advanced Professional Cookery
Level 3 Advanced Diploma in Food Preparation and Cookery Supervision
Revision
General Subject Information
Students studying Level 2 Hospitality and Catering will receive 3 timetabled lessons a week, in Year 10. Over the course of the 2 years students will study 2 Units
Unit 1: The Hospitality and Catering Industry
Unit 2: Hospitality and Catering in Action
A revision/intervention timetable will be added in term 2. The sessions are split two ways, one will focus on those students who are not achieving their target grade within the coursework (internally assessed components) and tailored bespoke sessions whereby students are invited to attend exam technique and structuring sessions. Following a formal assessment staff will identify individual students and their areas of weakness and strength, personalised personal checklists and 1-1 tutorials are offered to focus on improving exam performance.
We follow the WJEC Hospitality syllabus.
Personal Learning Checklists

Unit 1 (Exam) = Click Here

Unit 2 (Practical) = Click Here

Example Exam Questions / Model Answers
Click Here
Revision Materials / Sharepoint

The course overview can be found using the following link -
Job Opportunities / Careers
The Hospitality and Catering industry contains a large number of job opportunities and specialties. We've selected a list of specialties below. With each specialty, we look at the definition and nature of the work, the specialties employment trends, possibly career advancement opportunities, and hope that it is helpful for you in determining whether or not the career is right for you.
Restaurant Manager
You get to shape a restaurant according to your vision, and use a huge range of skills – from gastronomy knowledge to people skills and business savvy – to build the restaurant brand. In a restaurant chain you could progress to become a regional manager. Once you're managing a restaurant you can expect every day to be packed with activity and decision-making. From planning menus and meeting food and drink suppliers to hiring and training staff and organising their rotas, your life is a busy one – but you get to look around the restaurant and enjoy the fruits of your success, right in front of you.
CATERING MANAGER
Love socialising and getting hands-on with events? Your little black book of contacts will be full of names and there's a good chance your phone will never stop buzzing! Your clients will all want different once-in-a-lifetime events, from conferences to weddings. As a result, your working days will be packed with variety, and you'll meet all kinds of people on the job. Your job is to offer catering services, and you could do this in just one location – like a restaurant, school or hospital – or in many venues, especially if you work in a contract-based catering organisation. Your job is to manage the budget and staff to plan menus, source supplies, consider things like set and decorations and so much more. Whatever it takes to get the food and drink just right – you're up for the challenge.
food manufacturing inspector
Health and safety is big business, with more companies and organisations everywhere appreciating its importance. Health and safety in the world of food and drink is obviously a must-have, so your skills are both important and in-demand! You can get started as a school leaver with GCSEs or their equivalent, and there are lots of opportunities to train up and get deeper into the world of food, safety and science. The food industry is getting increasingly hi-tech in its bid to feed more people tastier and healthier food for less. But is that food still safe? It's your job to make sure all the companies producing food are doing it in a safe and hygienic way. You need to make sure their food is safe to eat and as good as it looks. The job itself is varied and depends on your experience and employer. However, you could be doing anything from checking food labels for accuracy to using your IT skills to analyse food samples and data.
food technologist
If someone asks you what you do at a party you can tell them you invent new flavours as your job. They'll think you're Willy Wonka. You have an important role in food production with a healthy salary to match. The everyberry-flavour icing on the cake is that there's lots of training available to help you develop your skills. For example, you could do a food technology apprenticeship or apply for a foundation degree or HND in food technology or food science to get started. When crisp companies hold competitions asking you to design your own flavour, what flavour would YOU design to excite the taste buds and sell to as many people as possible? As a food technologist you'll tweak and invent new recipes, flavours and even ingredients. You could be working for supermarkets, research hubs (like universities and government) or food manufacturers. You can expect to carry out experiments and work with IT to log data and analyse it.
waiting staff
As well as adding customer service to your CV, you get an insider's view of what it takes to build the brand and vibe of a restaurant, from customer types to menu choices and prices. Plus there's all the networking with potential contacts. Everyone needs to eat, so you'll find waiting service jobs available across the UK. One final tip: you might also get tips. You could be working in a restaurant, gastropub or hotel to serve food and drink to seated customers. You'll answer customer queries, explain menu choices and ensure the eating areas are clean and tidy – all while looking presentable and giving the best possible customer service.
chef
A chef is also known as a:
Cook (in places like schools or hospitals)
Short-order cook (in places where food moves quickly like fast-food shops)
Commis chef (trainee or apprentice chef)
Do you love trying out new flavours and recipes in the kitchen? Are you the one most likely to bake a surprise for a friend's birthday? If you've got stars in your eyes, is it a Michelin restaurant star you're aiming for? People will always love to eat so if you love to cook, becoming a chef could be a tasty recipe for a good career.
You could work in a huge variety of locations as a chef. Private, chain and hotel restaurants. Schools, pubs and cruise ships. You could work in the NHS or in the armed forces. You could work in small family-run kitchens or in far larger ventures. You could specialise in home cooking or Instagram-friendly cordon bleu.
Events manager
Depending on your level of experience, your responsibilities could include:
Working with the client to see exactly what they want
Agreeing the money and deadline side of things with the client
Brainstorming original ideas for events
Researching anything the event might need, from venues to equipment and entertainment
Hiring and overseeing the work of caterers, security and any other teams contracted in to do a specific job for the event
Managing staff and teams of people to carry out their jobs
Making sure everything is done with health, safety and insurance needs in mind.
Promoting the event to get the word out
Checking everything is working smoothly on the event itself. Your mobile phone will probably be buzzing all day.