Back to Subjects
Travel and Tourism (Level 2 and 3 BTEC)
Subject Vision
WHOLE SCHOOL VISION
INTENT
Travel and Tourism is one of the UK's largest sectors currently employing over 2.5 million people. The BTEC First award and Subsidiary Diploma in Travel provides students with a broad, stimulating and enjoyable curriculum, that engages, motivates and challenges all pupils, giving them the knowledge, skills and understanding to grow as individuals, preparing them for the next stage in their lives
Broad – BTEC Travel provides an engaging and stimulating introduction to the world of travel and tourism giving students the opportunity to develop knowledge and technical skills. Students explore some of the key areas within the sector including accommodation, travel development and promotion, the different types of customers and the appeal of different UK destinations
Stimulating – How is international travel affected by weather conditions and terrorism? Students have the opportunity to investigate how domestic and inbound tourist are affected by trend and factors affecting the travel industry, and how coastal resorts appeal to the needs of different types of tourists
Enjoyable – Students have the opportunity to explore their own short and long haul destinations and the factors that affect travel. They have the opportunity to put themselves in the position of a travel agent and plan long haul holidays to Sydney
Engaging – We look at preparation for employment in the travel industry and the skills and opportunities required to progress. We have the opportunity to visit local coastal destinations, Margate and Broadstairs and identify the appeal of these destinations for local visitors.
Motivating – Students are encouraged to use local coastal resorts as case studies when exploring how UK destinations meet the needs of different tourists. Students have the opportunity to take part in a variety of group activities and role play scenarios acting as Travel agents and tour operators.
Challenging – The course provides a basis for progression to further study in this sector by following the BTEC National Sub Dip in the Sixth Form or an apprenticeship in either Travel and Tourism or Hospitality.

IMPLEMENTATION

The Travel and Tourism curriculum has been designed with the intention of providing our students with the skills required to tackle the formal assessment in Year 11 in addition to the internally assessed units across the two year course.
Teachers will present subject content clearly, promoting appropriate discussion, checking learning, identify misconceptions accurately and provide clear, direct feedback. As a result teachers will respond and adapt their teaching as necessary.
Assessments will be delivered in a way that promotes long-term memory as well as the appropriate exam technique required to respond effectively to questioning.

IMPACT
Students will make good progress against their outcomes, which will mean high attainment; a strong grounding for life in British society; good destinations for all student.
External exam grades will be monitored against target grades
Calculations will show grades students need to achieve in each unit to achieve target gradesFuture outcomes model will be used to focus on gaps between different groups of students and to provide support where required

Staff
Homework
| Year | Day Homework is set |
| --- | --- |
| Year 10 | Wednesday |
| Year 11 | Thursday |
Year 12 and 13 Travel students will be set coursework tasks by each teacher each week.
---

Check the Curriculum Year information for the homework timetable.
Our Learning Journey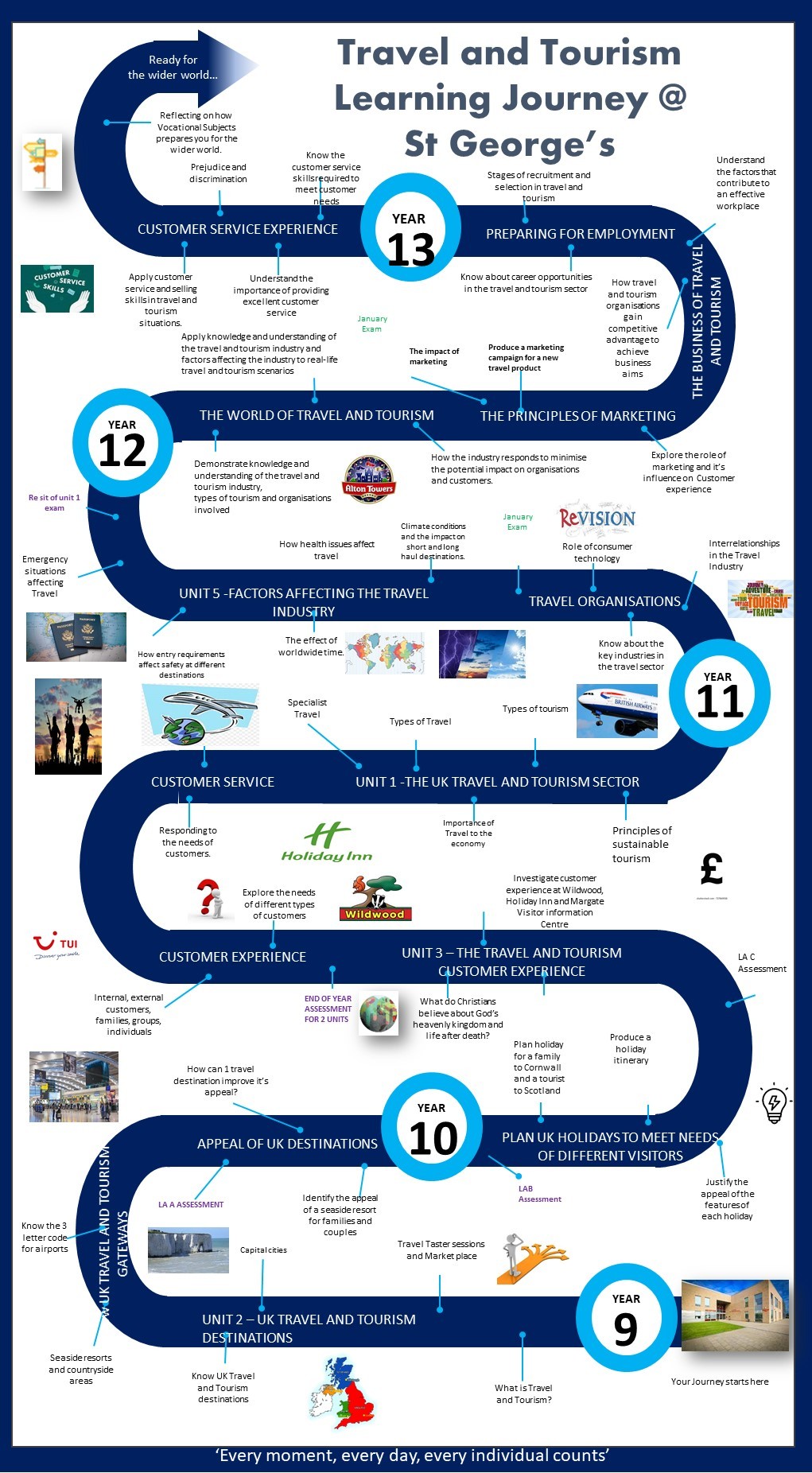 Revision - BTEC Level 2 First Award (KS4)
General Information (Useful Information for Parents)
Students studying level 2 Travel will receive three timetabled lessons a week, in Year 10 and 11. Over the course of the two years students will study four units.
In Year 10 students will complete two coursework units-
Unit 2 on Travel and Tourism Destinations and then unit 3 the customer service experience.
In Year 11 students will spend the first two terms revising for their January exam on the UK Travel and Tourism Sector. Students will have the opportunity to re sit this exam in the summer of Year 11.
The final terms will be spent on completing the last coursework unit, unit 5 on factors affecting the Travel industry.
| | |
| --- | --- |
| Personal Learning Checklist | |
| Example Exam Questions/Model Answers | |
| Revision Material/Sharepoint | (Pupils must log in with their username as their usual computer login followed by @st-georgescofe-thanet.kent.sch.uk (e.g. JSmith123@st-georgescofe-thanet.kent.sch.uk) and their usual password they use to log on to school laptops) |
Revision - BTEC Level 3 National (KS5)
GENERAL INFORMATION (USEFUL INFORMATION FOR PARENTS)
Paper examination
Graded from U through to Distinction
Exam Information
In the January of Year 12, students sit a written exam. This is 1 hour 30 minutes and is out of 75marks. Students will be assessed on the World of Travel and Tourism.
In the January of Year 13, students sit a 3-hour exam which is worth 60 marks.
Personal Learning Checklist

Unit 1 = Click Here

Unit 2 = To follow

Example Exam Questions/Model Answers

Unit 1 =

Unit 2 = to follow

Revision Materials/Sharepoint

Unit 1 =

Unit 2 = to follow

RESOURCES

The following textbook is available for students to buy

BTEC NATIONALS TRAVEL & TOURISM STUDENT BOOK + ACTIVEBOOK

Publisher: Pearson

Author: Gillian Dale

ISBN: 9781292187754


(Pupils must log in with their username as their usual computer login followed by @st-georgescofe-thanet.kent.sch.uk (e.g. JSmith123@st-georgescofe-thanet.kent.sch.uk) and their usual password they use to log on to school laptops)
JOB OPPORTUNITIES
Careers in Travel and Tourism
What does an air cabin crew do?
As a member of air cabin crew, you are responsible for the comfort and safety of passengers on an aeroplane. You'll meet and greet passengers, provide the safety briefing, and serve food and drinks. You will need excellent communication skills and a good level of English and numeracy skills. Travel is an essential part of the role.
What do I need to do to become an air cabin crew?
Entry requirements for air cabin crew vary between airlines. Airlines usually require air cabin crew to be between five feet two inches and six feet two inches tall, with weight restrictions varying.
You will need to be able to swim well and have a good level of physical fitness. You will need to be over the age of 18 to become a member of air cabin crew. The ability to speak a second language is highly desirable.
Airlines will usually require a good standard of education, including GCSEs (grades A-C) in maths and English, or equivalent qualifications. Previous experience in a customer service role will also be useful.
Vocational courses involving an element of customer service, e.g. travel and tourism, or hospitality and catering, could provide some useful background knowledge. Similarly, apprenticeships in these areas could provide helpful skills.
Essential qualifications
Ability to swim
Meet height and weight restrictions for the airline (these vary so make sure you check before you apply)
Over 18 when you apply
Airline Pilot
What does an airline pilot do?
Airline pilots fly goods and people to destinations across the world. You could be working for a big airline or smaller airline. The size and type of aeroplanes you fly will vary depending on which route you are travelling and how many people, or how much cargo you are transporting. You'll need good leadership skills as well as being able to work effectively in a team. You'll also need to be good at problem solving. You may be flying shorter internal (within a country) routes, or you may be piloting longer international journeys – either way, travel is an essential part of the job.
What do I need to do to become an airline pilot?
You will usually need to have flown a number of hours as a first officer. To become a first officer, you must first complete your Airline Transport Pilots Licence (ATPL). There are three main routes to obtaining the ATPL – through private training, through armed forces training, or through a university course which includes pilot training. To obtain a full ATPL you must be over 21 years old. To work as a first officer or airline pilot, you will need to also pass a rigorous medical test.
Essential qualifications
ATPL
Over 21 years old
Pass medical test
Tour Manager
Tour managers manage the travel arrangements of holidaymakers and business clients.
What does a tour manager do?
Tour managers, or tour directors, are responsible for making sure that travel arrangements for groups of holidaymakers run as smoothly and enjoyably as possible. Tour managers accompany passengers throughout a tour, keeping them informed about details such as arrival and departure times and places of interest.
The role would usually involve working on coach tours that could last from two or three days to over a month. It might also involve working on tours by rail or cruise ship.
This job would involve:
welcoming the tour group at the start of their trip and informing them of travel arrangements and stopover points
making sure all travel arrangements run according to plan, and that the accommodation, meals and service are satisfactory
helping with passport and immigration issues
giving spoken commentaries about places en route (local guides may also be used)
promoting and selling excursions to tour members
advising on sights, local restaurants and shops at each destination
recording issues that may require follow-up after the tour
Tour managers would need to be available at almost any time to give advice, solve problems and deal with emergencies, such as loss of passports or money, illness or difficulties with accommodation.
They might also specialise in the business-travel sector. This would involve managing the travel arrangements for people on business, which could include dealing with insurance, visas, vehicle hire and responding to itinerary changes.
What do I need to do to become a tour manager?
You do not usually need any particular qualifications to become a tour manager, but you would need a good standard of general education.
You would also need:
experience of working with people
a friendly and approachable manner
a keen interest in the culture, geography and history of the locations covered by the tour
a good working knowledge of foreign languages if touring overseas
experience of working overseas if the job you are applying for is based abroad
You could move into this job after gaining experience in a related role, such as a travel agent, tour guide or tour rep.
Qualifications related to leisure, travel and tourism are available at all levels through colleges and universities and you may find it useful to complete one of these, but it is not essential.
Career Pathway